Hugh Jackman's Tribute To Meghan & Harry's Honest Interview Is Spot On
by Julie Scagell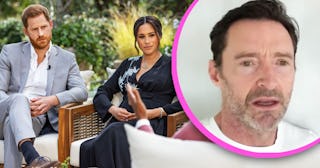 Harpo Productions/Joe Pugliese/Getty and Hugh Jackman/Instagram
Hugh Jackman works with an organization helping people find mental health help and he's praising Meghan and Harry for speaking out
Hugh Jackman is speaking out after watching the emotional and heartbreaking interview Meghan Markle and Prince Harry gave to Oprah on Sunday, thanking them for speaking "courageously" and "honestly," about their mental health.
Jackman shared a video on his Instagram page urging his followers to watch the interview. "I recommend Oprah's interview with Meghan and Harry which Deb and I and millions of people around the world watched last night with astonishment," he said, referring to his wife Deborra-Lee Furness. "Because there we were witnessing an incredibly high profile woman and her husband speak so openly, courageously, honestly, with such dignity about really the hardest time in their life and their cry for help."
During the interview, Meghan said she had thoughts of suicide — and that when she asked the Palace for help, they denied her. "I just didn't see a solution. I would sit up at night, and I was just, like, I don't understand how all of this is being churned out," she told Oprah. "I realized that it was all happening just because I was breathing. I was really ashamed to say it at the time and ashamed to have to admit it to Harry, especially, because I know how much loss he's suffered. But I knew that if I didn't say it, that I would do it."
She continued: "I just didn't want to be alive anymore. And that was a very clear and real and frightening constant thought. And I said that I'd never felt this way before. I need to go somewhere. And I was told that I couldn't, because it wouldn't be good for the institution."
Jackman is one of many speaking out in support of the couple. Serena Williams made a statement in support of Meghan, who is her friend. Several other famous names have shared their support of Harry and Meghan as well.
Jackman also told fans that he sits on the board of Gotcha4Life, which he described as "an organization in Australia that is dealing with this issue of suicide as well as mental fitness." The website continues: "Everyone deserves to feel supported and safe, especially when times are tough. That's why we do what we do."
"Last night I just thought, everyone needs to see this because it is such an incredible example to never worry alone," he continued in the video. "Seek help, and if you're not getting help where you're looking for it, keep looking."
It's not easy to ask for help but it is so critical to take the first step. There is help out there, and asking for it is the hardest part. Having people as high profile as Meghan and Harry be so open about their struggle continues to break down the stigma around mental health. It's long past time this happens.
"Go somewhere else because there is always help," Jackman finished. "So never worry alone and I just want to say thank you Meghan, thank you Harry for your courage."