'Designing Women' Is Coming To Hulu Because We CAN Have Nice Things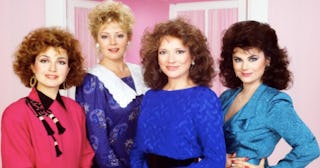 IMDB
All 163 episodes will be available beginning in August
It's happening, people. The hit show Designing Women will officially be launching on Hulu in August and before you ask — yes, all seven seasons at once.
The streaming platform announced this week that the Linda Bloodworth-Thomason-created cult classic, which ran on CBS from 1986-1993, will begin streaming on Aug. 26 — Women's Equality Day.
If you've never seen this show before, now is your chance to binge-watch the entire series and I assure you, you won't be disappointed. Dixie Carter, who plays Julia Sugarbaker, runs design firm Sugarbaker and Associates out of her house with her sister, Suzanne (Delta Burke); divorced mom Mary Jo (Annie Potts); and extremely naive Charlene (Jean Smart) — even Dolly Parton made a guest appearance. If that's not enough funny for you, Anthony Bouvier (Meshach Taylor) regularly joins the ladies and dishes out life advice only an ex-con can.
The comedy addresses everything from social and political humor, sex, divorce, women's issues, religion, homosexuality, and everything in between. It was one of the first to feature an almost all-female lead cast who aren't afraid to tell it like it is, all with some sweet southern charm thrown in for good measure (think many "bless your hearts" said in the most insulting way possible).
And let's just take a moment of silence for all of the scathing Julia Sugarbaker set-downs we're going to get to re-live, shall we?
Hulu's Craig Erwich said that the show was "ahead of its time" when it launched in the late '80s. "We saw these four fabulous women balancing work and home lives, running businesses, handling setbacks and dating. But the show never shied away from tough topics like domestic abuse, homophobia, racism and women's rights and its themes and storylines continue to have relevance today," he added.
If binge-watching this isn't a priority, perhaps you should make it one, especially given that ABC was talking about developing a sequel to the series as late as 2018. The series would follow "the next generation of Sugarbakers with a crop of new, young, female designers at an Atlanta interior design firm."
https://twitter.com/jetpack/status/1154812082421977088
"Every Monday night was a #MeToo moment for us, and we were talking about it; we were very political," Potts (of Pretty In Pink fame) told EW back in 2018. "I'm sad that there's not such a strong voice, I don't think, in any singular show. Nobody is doing what we did then."
This was the golden era of TV. When you actually sat down with your family, without electronics, and tuned in to shows like Murphy Brown, Frazier, Golden Girls, and Designing Women (and even sat through commercials without complaint). Then, when the show was over you had to wait another entire week for the next episode — and it was glorious.
Hulu is definitely giving Netflix a run for their money and if anyone can challenge a giant streaming network, it's Julia Sugarbaker.