The Trailer For J.Lo's Film 'Hustlers' Is The Most Badass Thing You'll See Today
by Madison Vanderberg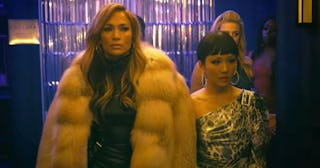 STX/Youtube
Hustlers, starring Jennifer Lopez and Constance Wu, hits theaters in September
Ever wanted to see Jennifer Lopez, Betty from Riverdale, and your fave rapper Cardi B play a bunch of badass strippers sticking it to The Man? You can, thanks to the new trailer for Hustlers which stars Jennifer Lopez and Constance Wu (and Cardi B, Lizzo, Lili Reinhart, Keke Palmer, Julia Stiles, and Trace Lysette, to name a few others) as strippers who con their douchebag clients out of tons of money. The movie is like, the gender-swapped version of The Wolf of Wall Street, and it looks freaking amazing.
The movie is based on the viral 2016 The Cut article "The Hustlers at Scores" (which is super fascinating and worth a read) about a group of actual New York strippers who found a way to turn the tables on their Wall Street clients and get rich (Jezebel calls them "Stripper Robin Hoods"). To quote J.Lo's character in the flick, "The game is rigged, and it does not reward people who play by the rules." This plan works for a bit until they get a little too greedy and the police start paying attention.
Speaking of J.Lo, she is perfectly cast in this film, and we mean that because Ms. Lopez has the upper body strength to pull off the impressive gymnastic stunts that strippers actually do on a nightly basis. Bless.
"She's obviously such an unbelievable dancer, but she trained so hard-core for this," Writer/Director Lorene Scafaria told Vulture. "Pole dancing is not like anything else. It required muscles you don't know you have. So we did treat it a little bit like a sports movie in that way."
It seems that the entire cast trained like athletes for the movie. Reinhart shared this photo on Instagram a few months ago, and okay #goals.
Fun fact: Pole dancing is such a strenuous, full-body athletic form, that some are even pushing for it to become an Olympic event.
The cast is chock full of A-list talent, but Scafaria knew for awhile that she wanted to cast rapper Cardi B (who actually worked as a stripper in New York for years). Unfortunately, not knowing her personally, Scafaria literally slid into Cardi's DMs to ask her to join the cast.
https://www.instagram.com/p/B0A0S5QpAM1/
"I chased Cardi for two years," Scafaria joked. "I got back a 'We know, we'll get back to you.' I didn't know if I was talking to her or somebody else…I have two phone numbers in my cell: Cardi 1 and Cardi 2. I'm not sure if either of them are actually Cardi."
Hustlers, aka the best movie of 2019, hits theaters on September 13.