Iggy Azalea Claims Jamie Spears Made Her Sign NDA In Explosive Statement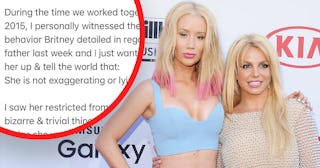 Iggy Azalea/Instagram and Jon Kopaloff/Getty
Iggy Azalea came forward with bombshell accusations against Britney Spears' dad, Jamie, from when the two singers worked together back in 2015
In the aftermath of Britney Spears' devastating court testimony detailing the alleged abuse and mistreatment she's faced under her 13-year long conservatorship, several of Spears' famous friends have come forward to publicly support her in her legal battle against her family.
The latest celebrity to speak out in support of the pop icon is Iggy Azalea, who worked with Spears on the 2015 song "Pretty Girls." The two recorded the song separately, meeting up for a lunch date at Azalea's home before filming the music video together, and later on performing at the 2015 Billboard Music Awards.
In a statement she shared to Twitter on Wednesday, June 30, Azalea shared her experiences dealing with members of Spears' team — namely, her dad Jamie — backing up Britney's testimony and sharing that she's "not exaggerating or lying."
The Australian rapper began by calling it "basic human decency to at the very least remove a person Britney has identified as abusive from her life," noting that Britney's claims "should be illegal."
"During the time we worked together in 2015, I personally witnessed the same behavior Britney detailed in regards to her father last week and I just want to back her up & tell the world that: She is not exaggerating or lying."
She continued, "I saw her restricted from even the most bizarre & trivial things: like how many sodas she was allowed to drink. Why is that even Necessary?"
This isn't the first time Azalea has spoken up about the pair's lunch date prior to filming the "Pretty Girls" music video. In 2016, she appeared on Watch What Happens Live with Andy Cohen, telling Cohen that Britney's team searched her home before Britney arrived. "They came and checked my place to make sure I wasn't trying to stash anything weird and, like, get it to her or something…to make sure I wasn't a bad influence. And I'm not. I passed the test!" Azalea told Cohen. "I mean, I don't have like a crack den."
Azalea made another accusation against Jamie — this time in regards to moments before the pair took the stage at the Billboard Music Awards. She said, "[Britney's] father conveniently waited until literally moments before our BMAs performance when I was backstage in the dressing room & told me if I did not sign an NDA he would not allow me on stage."
"The way he went about getting me to sign a contract, sounded similar to the tactics Britney spoke about last week in regards to her Las Vegas show," she continued. "Jamie Spears has a habit of making people sign documents while under Duress it seems, and Britney Spears should not be forced to co-exist with that man when she's made it clear it is negatively impacting her mental health. This is not right at all."
Like all the allegations made against Jamie and members of Britney's team, Azalea's are equally as terrifying and disheartening. Here's hoping Britney is granted the freedom, peace, and safety she's deserved all along, and soon.