Ilana Glazer Shares Baby News With Relatable AF Breastfeeding Photo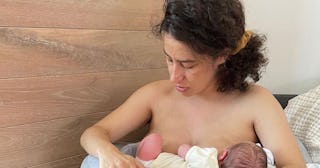 Ilana Glazer/Instagram
Ilana Glazer is nursing in compression socks and it's highly relatable new-mom content
If Ilana Glazer wasn't already one of your favorite famous folks, this epic breastfeeding baby announcement should seal the deal. The actress-comedian-producer-writer-hilarious genius shared a few months ago that she was expecting her first child with husband David Rooklin, and it seems that child has arrived and Glazer is spreading the news in a way every new mom can relate to.
"been breastfeedin in compression socks for the past 3 weeks, hbu?" she writes alongside a breastfeeding photo for the ages. There's Glazer, hair tied back in a scrunchie, topless, wearing compression socks and nursing her infant. I mean. This is as real as it gets, right?
While we all love a stunning newborn portrait complete with blissful new momma and perfect poses, this photo captures the reality of early parenthood. You're exhausted. You're still recovering from birth. Your baby is probably not letting you sleep much and you can't be bothered to put on a shirt when all you're going to do is whip out the boobs again in an hour or two (maybe sooner — friggin' cluster feeding). This is life with a newborn and Glazer seems to be here for it.
The Broad City star has been low-key when it comes to details of her pregnancy (and baby — she hasn't yet mentioned the little one's name or sex) but has been pretty generous with adorable bump photos starting with the post that followed her sharing the exciting news. Back in March, she posted a photo showing her pregnant belly for the first time with a simple caption of "hi ✡️👶🏻✡️"
Glazer announced her pregnancy through a photoshoot and interview for Entertainment Weekly and put the sweet bump photo on Insta shortly after. She told the publication at the time about the coincidental timing of her new film False Positive, which is a horror about undergoing IVF at the hands of a very creepy doctor. It premiered while Glazer was pregnant. "This was not supposed to happen this way, but it's just so eerie and cosmically funny that it has," Glazer said at the time. "I'm lucky; I'm in control, unlike our protagonist. I don't feel like I'm having the rug pulled out from under me in any way."
The actress also shared that she isn't shy about getting a little help when it comes to the whole "new parent" thing. "I'm not afraid to ask a billion questions," she said. "There are certain trends in society of how pregnancy should look — the 'shoulda coulda wouldas' that are put on women all the time but are so amplified in pregnancy. I'm specifically seeking out the most spiritually healthy and welcoming experience."
It looks like Ilana already has several important parts nailed when it comes to enjoying those first weeks of motherhood. Enjoy those compression socks and soak in all that sweet newborn time, momma.