The First Official Trailer For Lin-Manuel Miranda's 'In The Heights' Is Here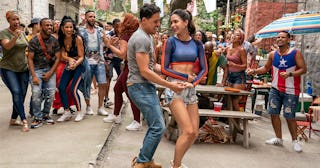 Macall Polay/Warner Bros.
The adaptation of Lin-Manuel Miranda's first musical looks amazing
In the first official trailer for In the Heights, we get a glimpse of what life is like in Washington Heights, according to the movie's main characters. It's based on Hamilton creator Lin-Manuel Miranda's first musical, taking place in the predominantly Hispanic neighborhood in New York City. And it looks amazing.
"It's a story of a block that was disappearing," says A Star is Born's Anthony Ramos (who also starred in Hamilton). "In the barrio of Washington Heights, the streets were made of music."
In the Heights takes place over the course of three days — Ramos stars as a bodega owner named Usnavi. Joining Ramos is an all-star cast consisting of Jimmy Smits, Corey Hawkins, Melissa Barrera, Daphne Rubin-Vega, Dascha Polanco and Stephanie Beatriz. Miranda, who originated the role of Usnavi on stage when the musical was on Broadway, now portrays Piraguero, the owner of a small piragua stand.
The score features hip-hop, salsa, merengue and soul music — a huge part of why the show is what it is. The story begins with Usnavi, dating a woman named Vanessa, who works in a beauty salon. He dreams of opening a bar in his home country, the Dominican Republic. "Abuela" Claudia, the neighborhood matriarch who raised Usnavi after the death of his parents, wins $96,000 in a numbers game.
Another character, Nina, loves a shy guy named Benny, who has worked for Nina's parents for years, but her father opposes their union because he wants Nina to finish her education at Stanford University. She doesn't want her father to bankrupt himself paying for the expensive school, but her father is prepared to sell his car-service business.
The movie is directed by Jon M. Chu, who also directed the huge hit from last year, Crazy Rich Asians. The musical version of In the Heights was a huge hit on Broadway when it premiered back in 2008 — the show was nominated for 13 Tony Awards, and ultimately won Best Musical.
The internet seems pretty dang excited for the movie, too.
https://twitter.com/jetpack/status/1205148703474028545https://twitter.com/jetpack/status/1205143148688822273
Lin-Manuel, who wrote the earliest draft of In the Heights in 1999 during his freshman year of college, shared his gratitude to fans of his work in the best way:
Director Chu describes In the Heights as a story about change. "You can't change the world if they don't want to change, but never underestimate the power of planting a seed," he tells Variety. "I believe that this movie is an amazingly beautiful seed that can change a lot of minds."