The 'Inflatable Hunk' Pool Float Is Here To Spice Up Your Summer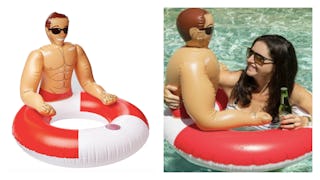 Image via Amazon
You'll be the envy of all your friends floating around with this guy
It seems we may just be wriggling slowly free from the death grip of Old Man Winter. That means we can finally start thinking about some summer fun — barbecues, beaches, and of course, floating for hours in a pool wrapped in the arms of a dude with a six-pack and a smile.
Introducing the latest summer must-have — The Inflatable Hunk Pool Float. This fetching float is the ultimate pool buddy. He'll carry you around the pool all summer long and even hold your cocktail while he's at it. How many real life dudes would do that for you? The best part is he can't bitch and complain and tell you to get out of the pool already and make the kids some lunch because, well, he's made of plastic.
According to Amazon, the float is made of "sturdy rubber" and inflates to 2.7 by 2.4 feet. All we need to do is plop in a cocktail, throw on some sunscreen, and "lie back and admire the view." Count me in.
What a time to be alive. There are so many options to float around in this summer. If a dude full of hot air isn't your jam, there's a giant unicorn that can fit you and six of your closest friends, a lounger in the shape of a wine bottle to get all your pasty white winter body tan, and even a dill pickle. Because who doesn't want to hold onto a dill pickle while they soak up some rays?
Don't have a pool available? No problem. Just set up one of these giant unicorn sprinklers in your front yard and bam — hours of water fun for you and yours.
The inflatable hunk has gotten some good reviews from customers. One customer, who nicknamed her float "Chad" said it was "a huge hit at a bachelorette party." Apparently, Chad "spent the whole weekend holding various babes afloat, and his muscles were a warm embrace that every gal enjoyed."
Rawr.
Another commented that the float, whom she named 'Stavros,' was high quality and easy to inflate. Her "boyfriend earned lots of adoring looks, compliments, and high-fives from friends." Oh, and she named him "Stavros," so that's exotic.
And should you get bored of floating around all day in the arms of your hunk, consider pairing your purchase with an Inflatable Hunk Ring Toss game.
They really have thought of everything.