This Is The Beauty Of Friendship On The Internet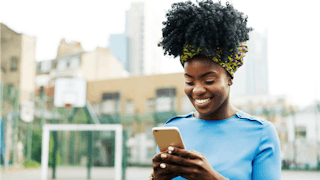 Tim Robberts/Getty
Many of us don't have a built-in squad anymore. It sucks, but there it is. We're isolated. There is no more village, if there was ever a village to begin with. Real mom friends are hard to come by — not the kind of mom friends who can talk about poop, but the type of mom friends who can talk about politics and pop culture. We live in a village-less void, where few people really get us, few people share our interests, and even fewer care to learn them.
Enter our internet friends.
RELATED: 100+ Friendship Quotes Tailor Made For You And Your BFF
Lots of people say internet friends don't matter. They say internet friends aren't as authentic as real-life friends. Internet friends can't clean your bathroom when your mother-in-law's on her way; they can't help you when you have the flu. My real-life besties used to do that stuff. They moved. Now no one does.
But internet friends can hold you up when no one else will bother. They can celebrate your milestones when no one else cares. They can offer encouragement when no one else will. They can share your interests when no one else understands.
Your internet friends, basically, can fill an important gap missing in the world today. They can become your virtual village. And there's no shame in that. They don't mean less because they live in different time zones. They don't mean less because you might not call them by their real names. They're present when no one else is.
This is what internet friends do. One of my books came out in paperback recently. No one really cared — except an internet buddy. She immediately ordered both. When they arrived, she tagged me on Facebook Live and unboxed them. I saw my physical books for the first time because an internet buddy, whom I call by a pseudonym, cared enough to excitedly Facebook Live an unboxing and then read the back covers aloud. I cried.
But you're there for your internet friends too. When they're sad, you're sad. You watch out for them. When you see a vaguebooking post, you message them. "Are you okay? What happened?" And they might tell you and they might not, but they know you care enough to ask. And sometimes that caring is enough to get them through the day. It's a gift to be there for someone. We don't have enough chances for that in this world, where we're so isolated from each other. Given the chance to care, to talk, to say I'm here for you, most of us will snatch it up. I have that with my internet friends. And I'm grateful for it. A word for Gabe when he's sad or overwhelmed. An "I'm sorry" for Spooks when she's having a shit day at work. A "that sucks" to another friend when she says she suffers from depression.
It helps them to hear that someone out there cares. But it helps me to know that somehow, I make a difference for someone out there in the universe. The chances to do that for real people, people we care for — they're few and far between these days.
Then there are the people who share our interests. I'm into some pretty obscure TV shows. Like, super into them. And I found my group on the internet. We can talk forever about show theories and character development, which inevitably dovetails into discussion about our own lives (one of my favorite shows deals a lot with mental health). We get each other. I don't talk to other people about some things I tell these people. Internet friends can be like that. The safety of a screen can lead to confidences we wouldn't otherwise share.
Internet friends can give us that sense of safety. Since there are no real-world repercussions to sharing our secrets, we can divulge more to them than we can in our so-called "real" lives. I told people on The Magicians forums about my struggles with anorexia before I told anyone else. Many mamas ask for help from their birth-month groups — perhaps the only pregnant women they talk to regularly — before they go to their OBs or pediatricians. I've shared stuff about fights with my husband. Worries about my kids. Because I can confide in my internet friends.
I'm not the only one who knows the power of Internet friends. Jaiden Cowley, the mother of a child whose been waiting 400 days for a heart transplant, found herself in the ER one night at 11 p.m., reports Today. "I have a huge favor to ask," she said to The Mom Squad Facebook Page. "I'm in the er and I can't leave my daughter alone, but I really need a coffee."
A woman named Elizabeth appeared at Toronto's Hospital for Sick Children, also known as SickKids, with a Starbucks Venti. Another woman sent Jaiden $50 to buy coffee. Other moms offered prayers and virtual hugs and well-wishes and said things like, "Would love to send you something."
Just because it's not in "the real world" doesn't mean it isn't real.
Internet friends also lift you up when you need it the most. They can be our biggest cheerleaders. When my biggest cheerleader reads this essay, she'll find out my real name for the first time. She's always around with a kind word, an enthusiastic "you can do it!" I swear Wendy believes in me more than anyone else. I need that in my life. Another internet friend messaged me once, out of the blue, to tell me how amazing I was. I needed to hear it that day more than she knew. I taped her words to my mirror. Our internet friends can do that for us. When we're down, or scared, or sad, and afraid to tell people IRL, internet friends are there for us.
My BFF is an internet friend. She might as well live on the goddamn moon. But she encourages me. She yells at me (in all caps). I sang a song at her yesterday after brutally earworming her. She makes me laugh out loud in empty rooms. I tell her the truth about things when I don't tell anyone else. She tells me she's worried. I validate her parenting decisions. Once, she Facebook Lived me into a New Kids On the Block concert.
Tell me that isn't a real friend.
Tell me that isn't two people who are there for each other.
Tell me everything I've mentioned doesn't show real caring, real trust, real friendship.
If the internet suddenly died, I'd miss them. I know they'd miss me. I'd worry about them. Is Gabe okay? What about Spooks? How is Elliot coping? Where is my BFF?
Internet friends are just as real as the people I see at playgroups. And in most cases, I like them better. Stop tearing them down as "fake." They've been there when "real friends" haven't. They've held my hand when I was scared. They've lifted me up when I was down. They've celebrated with me. They've given me the chance to celebrate with them.
After all, that's what friends are for.
This article was originally published on