Before You Introduce Your Kids To A New Partner, Get On The Same Page With Their Other Parent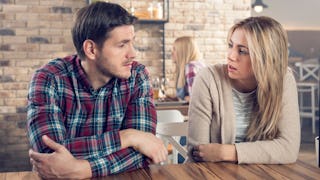 Getty Images
When you and your partner decide to split, there are a lot of changes and emotions to deal with. You go from being a married person with a partner to a single person on your own, which is a pretty big adjustment in and of itself. And when you have kids, their needs and emotions are obviously at the forefront as well. Dealing with the changes and emotions is all part of the process.
Not only are you starting fresh, getting used to being on your own financially, and tackling household duties that used to be shared, it also feels like your heart has been put through a blender. Keeping it together and trying to make the transition as smooth as possible is challenging enough, and sometimes things you never thought of can go unaddressed — such as introducing your kids to your ex's new boyfriend or girlfriend — until they are staring you right in the face. Literally.
Let's face it, anytime there is a breakup, our ego takes a hit. No one likes having their heart broken. In fact, it is one of the worst feelings to go through. So when your ex has moved on and found someone else, it's almost impossible to know how you'll feel about introducing said "someone else" to your children.
While I certainly don't know when the time is right for all couples — you are the only ones who know that — I can say this: It is important to talk about it in advance. And the two of you agree on when the time is right, because if you don't, there will be a lot of stress on everyone, most notably your children.
This issue wasn't something I thought about while my ex-husband was packing up his belongings and moving out of our family home. It wasn't even on my mind the night I slept alone in the bed we had shared for 18 years. It didn't even cross my mind when he went on his first date and told me about it over lunch the following Tuesday.
We still have time. I don't need to think about this now, surely he doesn't want anything serious.
But I was wrong. We can't help when we fall in love. We have no control over timing when we meet someone special. I somehow thought because I needed to be single and get to know myself again, so would my ex-husband. But it didn't turn out that way.
He and I have a friendship, but believe me, we've had some heated conversations about when the time is right to introduce our kids to his new girlfriend. Because these are my kids. I don't want him to introduce them to just anyone. And honestly, I'm afraid of what it might do to our family dynamic.
But they are his kids too. And this is his life, and he wants to share it with the woman he loves and his children. My feelings are not the only ones involved here.
So we talked about it, and we set boundaries. I believe in setting boundaries to spare my kids' feelings, but I tried not to set boundaries based on my own feelings — though it was hard.
Looking back, I wish we had discussed this before it was an immediate issue, but we got through the tough conversations and set some ground rules. For us, that means after six months of dating someone, if we are in love and feel like the relationship will be a long-term, committed relationship, we will talk to the kids together and see if they are all ready to meet a significant other. And if everyone is on the same page, an introduction and spending time with a new partner will be okay.
We also decided it would be a good idea if we met the new partner first, alone, without our ex hanging over our shoulder or our children watching nervously in the background. It cleared the tension so our children could see we'd already met the new person in our ex's life and that we were calm and comfortable with the new situation.
The biggest thing I have learned from ending my marriage is that my kids are okay when I am okay. It doesn't mean you have to put on a smiley mask all the time. You are allowed to cry and have a bad day. You are going to struggle — this is all new territory you are trying to cover as smoothly as possible, but you are going to fumble. And it is okay.
Introducing a new significant other is one of the bumps along the way. But as hard as talking about it and setting boundaries can be, it's a discussion worth having — for everyone's sake.
This article was originally published on