Relax. It's Probably Not Snowing Inside. It's Just Dandruff.
by Scary Mommy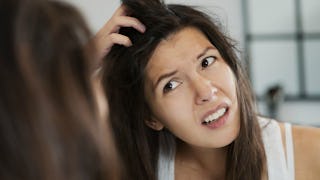 LarsZahnerPhotography / Getty Images
It's holiday party time, and that means it's time to pull out that favorite little black dress. Well, for some of us it is.
For those dandruff sufferers among us, wearing black during the winter, especially, is as scary as a snow day home with rowdy kids. Blizzards are bad enough outside — we don't need them on our scalps!
Dandruff and dry scalp are very common problems, but that doesn't make them any less annoying. Dandruff causes all sorts of symptoms, from the tell-tale white flakes to itchiness that can make you seriously consider purging every black item of clothing you own.
But don't go doing anything drastic just yet — there are products that can help. We've tried several medicated shampoos, and while most do an okay job at limiting itch, our go-to favorite is a 2-step system called Hair Sanity.
Developed by Dr. Rebecca Kazin, a Johns Hopkins trained dermatologist and mom of three, Hair Sanity is a shampoo/conditioner duo that not only stopped my scalp itchiness but didn't leave my hair smelling like a medicine cabinet, like some dandruff shampoos out there do. Kazin had patients who were embarrassed by the dandruff flakes and frustrated because they couldn't control their dandruff while keeping the overall look and feel to their hair that they wanted. "Many people who used anti-dandruff shampoos complained that it left their hair dry or frizzy or caused accelerated color loss," she said. "Hair Sanity takes care of the flakes and scalp issues and at the same time leaves hear looking and feeling that way it does after using high end spa/salon products."
The active ingredients in Hair Sanity are approved by the FDA as safe and effective and don't require a prescription. The products are also paraben-free and sulfate-free, but filled with nutrients and anti-oxidants that are great for your hair and scalp. You can actually achieve salon quality results for look and feel of your hair, while still getting rid of the annoying flakes. And bonus — it's gentle on color.
Hair Sanity is currently only available on Amazon and www.wearblack.com, but it will be available in dermatologists' offices and high-end salons soon. Let's keep the flakes outside this winter!
Editors may receive samples and/or a share from purchases made via links on this page.
This article was originally published on