J.Lo's Daughter Made Her A Sweet Video To Watch Whenever She's 'Sad'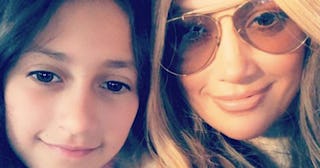 Jennifer Lopez
Jennifer Lopez shared the sweetest video her daughter Emme made her on National Daughters Day
Jennifer Lopez's 12-year-old daughter Emme Maribel Muñiz recorded the sweetest video for her mom that she hopes J.Lo will watch whenever she's feeling "sad" or missing her family. In honor of National Daughters Day, which apparently is a thing now, J.Lo shared the heartwarming video that her daughter sent her and brb while I collect myself, I'm currently wading in a pool of my own tears.
In the video, Emme — who has amazing hair, btw — talks directly to her mom, telling her she's "the best mom in the whole entire world." It seems Emme sent the video to J.Lo sometime when they were apart, maybe pre-quarantine, because in it, Emme tells her mom how much she misses her.
"Hi mom! I just wanna let you know that you're the best mom," Emme begins. "Actually, you're over there. Yeah, you're the best mom in the whole entire world and I couldn't ask for a better mom."
https://www.instagram.com/p/CFk0gMcpf-A/
"I really miss you and I love you and yeah. I want to make this before you come over because it's supposed to be a surprise but yeah, I really love you and you're the best mom in the whole entire world and I don't know what I would do without –well, technically nothing," she said.
Okay, but here's the kicker. Emme says she hopes her mom holds onto the video and watches it whenever she's sad or traveling and missing her kids.
"I don't know what I would do without you and I love you very much and yeah…you're gonna watch this whenever you're sad or gonna miss me because I miss you, too!"
J.Lo did hold onto the video — because of course — and shared it on Instagram on Friday's National Daughters Day, writing "Happy #nationaldaughtersday to this lil coconut… you are my sunshine and my whole heart."
J.Lo is mom to twins Maximillian David and Emme Maribel, who she shares with ex-husband Marc Anthony and is now raising alongside her fiancé Alex Rodriguez's two daughters, 14-year-old Natasha and 10-year-old Ella in one big blended family. As for Emme and J.Lo, they are one cool mother-daughter duo. Emme sang onstage with her mom at the Super Bowl Half Time show earlier this year, proving she's following in her talented mom's footsteps. We love to see it.