James Corden Performed An Incredible, Slow Clap-Worthy Rap Recap Of 2020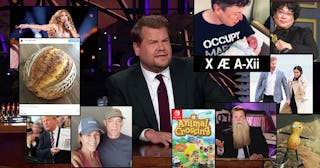 The Late Late Show with James Corden/YouTube
Corden manages to pack nearly everything of note in 2020 into a three-minute segment
The Late Late Show with James Corden always delivers on fan-favorites since he took over the show in 2015. One such beloved segment is "Carpool Karaoke" — and another is his end of year recap of events and moments from the year gone by. As you can imagine, there was a lot to pack into his 2020 version, and Corden does so with the speed and hilarity we've come to expect.
Corden's rap recap of the most viral moments from the past 12 months was as poignant as you'd expect from this year. While not much seems all that funny as we look back, Corden is here to remind us that if we don't laugh, we'll cry — and we've already done that enough.
After running through memories of Trump's impeachment, Pence's fly friend, and Meghan Markle and Prince Harry's move to the U.S., Corden reminded us that in this year of 2020, we also had a hard time pronouncing Elon Musk and Grimes' baby's name and finding sourdough starters for our collective obsession.
From there, Corden covered many memories fresh in our minds, as well as some we'd forgotten even happened this year. Donald Trump's now infamous "Four Seasons" press conference was one I think we'll be thanking 2020 for well into next year; but Corden also reminded us that between murder hornets, toilet paper shortages, national protests, and a global pandemic, 2020 "has been the absolute worst." Not that anyone is forgetting about that anytime soon.
Of course, there were some good things that happened. Jennifer Lopez's halftime performance at the Super Bowl, Parasite winning Best Picture of the Year, Tiger King becoming everyone's obsession, discovering the lyrics to WAP, and TikTok dances that swept the globe were all highlights in the grand scheme of things.
And because we've all been home basically since March, he also mentioned shows such as Queen's Gambit, Schitt's Creek, The Undoing, and Borat 2 (minus the Giuliani scene), which have all helped us get through the year and give us all a shred of hope.
And speaking of hope. "Don't get me wrong, there's reason to hope," rapped Corden. "Five more states all legalized dope/The COVID vaccine is now within reach/A much better option than injecting with bleach/2020 destroyed all of our plans, but we can get through it by washing our hands/Lending neighbors assistance and keeping social distance/To flatten the curve and get back to the task/Next year we'll be better, just put on a mask."
Corden finished off his rap by saying, "Here's hoping we'll be together in person next year," and let's hope he's right. We all need a little something to look forward to after this dumpster fire of a year.