Jamie Otis Responds To Troll Who Shamed Her For Using Pull-Ups To Potty Train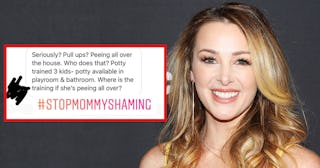 Taylor Hill/Getty
The Married At First Sight star has the best advice for mommy-shamers: "Do you"
Potty training is one of the least fun parts of parenting for so many reasons. Not only is pee and poop totally gross and the training process usually involves cleaning up a lot of it, it can be ridiculously frustrating and there isn't a one-size-fits-all method. Every child is different, and what works for one little tot may not be effective with the next.
Married At First Sight star Jamie Otis has been in the thick of it since April, when she first attempted to get her daughter, Henley Grace, on the "big girl potty." Months later, she is still struggling (which is so most of us, btw) and trying everything possible. Well, because trolls will be trolls, the reality star was mommy-shamed over her methods, but she wasn't having it. In a new Instagram story, Jamie outlined the online conversation she had with the non-business minder in which she totally put them in their place.
"Seriously? Pull ups? Peeing all over the house. Who does that? Potty-trained three kids — potty available in the playroom and bathroom. Where is the training if she's peeing all over?" spat one of her followers.
"Listen to me. She doesn't pee all over the house," she responded. "It's for when she dribbles before she gets to the potty #stopmommyshaming. Awesome! You potty-trained three! This is my first and I'm not saying I'm a pro or anything. Do you, sis!"
Snap! Jamie is so right about this, because there isn't a universal potty training method. Obviously, pull-ups are made for a reason and they seriously help some children transition from diapers to underwear. If this follower had advice for Jamie, she should have construed it in a non-judgmental way. We are all doing the best we can, lady.
This isn't the first time Jamie has shared about her oh-so-real potty training struggles with fans.
https://www.instagram.com/p/BwnVilCnTDZ/
"Get all the wipeys, pull ups and big girl panties ready… this little girl is potty-training," Otis wrote back in April during her first potty-training attempt. "She wanted to go on the 'big girl potty' a couple months ago and she didn't pee, but she didn't cry either, which was a HUGE milestone! … We headed to Target last night to get ALL the essentials — big girl panties, pull ups, flushable wipes, you name it!"
When that mission failed, as most first attempts do, she tried again in August. "Potty-training has begun (again)!" she tweeted. "Hangin' out in our big girl undies and chasing the potty with every pee pee. If you have any advice I'll take it because last time I failed at this."
But again, troll, take note. She asked for advice — not judgement.
While Jamie gained fame as a reality star, marrying her husband, Doug Hehner, shortly after meeting him on Married At First Sight, she has amassed a serious following due to her transparency about everything from her ongoing fertility struggles and miscarriages to body confidence and parenting experiences in general. We hope she continues keeping it real and doesn't let a silly troll stop her from sharing fun (and relatable) dispatches from her mom life.