Jamie Spears Accused Of Using Over $2M Of Britney Spears' Money To Defend Himself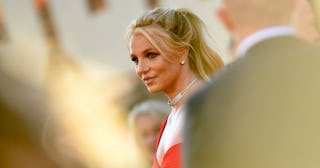 VALERIE MACON/AFP via Getty Images
Britney Spears' conservator has filed bombshell documents with the L.A. courts
In the latest in a troubling set of events surrounding Britney Spears' legal efforts to free herself from her 13-year conservatorship, the pop star's personal conservator, Jodi Montgomery, has filed bombshell documents with the Los Angeles courts, People reports. The filing seeks to rebut Jamie Spears' claims that she won't allow him to communicate with his daughter or be involved in decisions related to her conservatorship.
Montgomery pulls no punches with her choice of words.
"It is ironic that Mr. Spears now wants the conservatorship to 'reflect her wishes,' since it is no secret that Ms. Spears has wished her father out of her life for years," Montgomery reported to the court.
Britney fans, already concerned about the singer's welfare, took to Twitter to express their frustration with her father's alleged actions.
As part of the filing, Montgomery claims that Jamie couldn't be in the dark about his daughter's life since she started serving as conservator to the pop star since "everything costs money" and Jamie controls the purse strings.
"No expenditures can happen without going through Mr. Spears," Montgomery continued in the document, adding, "Not every requested expenditure has been approved, leading to some of the concerns raised by Ms. Spears on June 23, 2021."
Montgomery told the court that she and Jamie "should be working as a team to ensure that Ms. Spears' best interests are being met, that she is on a path to recovery and termination of her conservatorship, and that she is living her best life possible. Instead, Mr. Spears has decided it is time to start the finger-pointing and media attacks."
The documents also claim that Jamie has used "more than $2 million of his daughter's money" to defend himself in an attempt to remain the conservator of her estate.
Britney fans are happy that her father's alleged misdeeds have come to light.
Others think Britney should sue if the court finds her father mishandled her fortune.
The court documents from Montgomery included heartbreaking screenshots of text conversations with Britney, who is listed as Jane Doe for privacy reasons.
"I need u to stay as my co conservator of person," the text reads. "I'm asking u for ur assistance in getting a new attorney."
As a result of Britney's bombshell testimony, the court battle concerning her conservatorship has intensified. The next hearing is scheduled for July 14.
"I want changes, I deserve changes. I was told I have to be sat down and evaluated again," she told the judge in her testimony. "Ma'am, I didn't know I could petition the conservatorship to end. I honestly didn't know that."
"Honestly, I don't think I owe anyone to be evaluated," Britney added. "I've done more than enough."