Janet Jackson's 'Control' Album Soars To #1 Amid Justin Timberlake Controversy
by Julie Scagell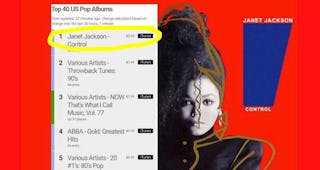 Janet Jackson was emotional as she thanked her fans for making the 1986 record reach #1 35 years after its debut
Janet Jackson has been in the news lately following Hulu's documentary Framing Britney Spears, which was produced by the New York Times. Fans of Spears began calling for her old boyfriend, Justin Timberlake, to apologize for how he mistreated the singer, and as they uncovered more about his treatment of her, the "wardrobe malfunction" during the 2004 Super Bowl brought Jackson into frame again as well.
Last week, fans of the beloved singer decided to take matters into their own hands and pushed Jackson's "Control" album all the way to #1 in Apple's Top 40 Pop Album Chart — on the 35th birthday of the album's release.
"You're so special to me," Jackson said upon hearing the news. "And I want to thank all of you for making 'Control' number one, once again, after 35 years…After 35 years, never in a million years would I think that this would happen. I really appreciate you, and I love you so, so much. Thank you."
"Control" was released in 1986 after being skyrocketed to the top of the charts again last week, still remains in the top 10, thanks to supporters. Many are angered by her mistreatment, not just in the industry itself but specifically when it comes to Timberlake. After the Super Bowl scandal, his career seemingly got even better while Jackson largely dropped out of the spotlight.
Over the weekend, an old interview Jackson did with David Letterman after the Super Bowl showed just how predatory and disgusting she was treated. "Welcome to the show," Letterman begins, looking at her dress and breasts saying, "now that's almost malfunctioning, isn't it?" Jackson smiles uncomfortably and tries to move on. Letterman wasn't having it.
"Tell us exactly what happened from the time you got up on Super Bowl Sunday to the time the episode took place on the halftime show."
As the crowd laughs, Jackson looks visibly uncomfortable, saying, "I don't want to relive any of that." Letterman is unrelenting and continues to ask Jackson questions about the performance and whether she knew it was going to happen. "Why are we talking about this right now, David?" she asks, again trying to move on to another topic.
That interview and Timberlake's long overdue apology about the "malfunction" shows just how horribly female celebrities were treated not so long ago. While people should have been outraged then (and some were), looking back at it from the lens of today offers perspective on just how bad it was for many of these stars.
For his part, Timberlake issued an apology following the outrage from the documentary, saying in part, "I specifically want to apologize to Britney Spears and Janet Jackson both individually, because I care for and respect these women and I know I failed."
Jackson went on to tell her fans how much she appreciated the gesture. "I was at home just the other day by myself, and I began to cry. I was crying because I was so thankful for all that God has blessed me with, all that he has given me, and I'm so thankful for him being in my life."