Jason Momoa And Emilia Clarke's Genuine Friendship Is The Content We Need RN
by Julie Scagell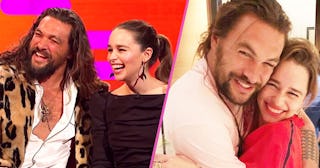 Graham Norton/Youtube and Emilia Clarke/Instagram
Jason Momoa and Emilia Clarke are the cutest besties
For those of us who've been in mourning since Jason Momoa's character, Khal Drogo, was killed off in Game of Thrones, this video may just give us a reason to smile. Fine, any time there's a video or picture of Jason Momoa we smile but this one is extra special.
It's hard to believe it's been over eight years since the first season of Game of Thrones aired and the world fell in love with Khal Drogo and his romantic interest, Daenerys Targaryen, played by the lovely Emilia Clarke. Their chemistry was undeniable on-screen and the pair have remained close friends ever since. If you need any evidence of the love they have for each other, look no further than this video clip when he visited Clarke on The Graham Norton Show last week.
Clarke is already seated with guest stars Regina King and comedian Ross Noble, when Momoa makes his entrance (and what an entrance he makes). Instead of greeting host Graham Norton, Momoa makes a beeline for Clarke, wrapping her up in a big hug before shaking hands with Norton and the rest of the guests.
Momoa told viewers he makes it a priority to visit his "darling" whenever he's in London and it's clear by looking at them just how close they are. The pair recently met up with co-star Kit Harington and Clarke spent Momoa's 40th birthday with him earlier this year. She posted a sweet pic of the pair saying, "YOU ALWAYS MOTHER OF DRAGONS MAIN MAN."
Like, why are they so cute?
Clarke, who admitted to suffering from two aneurysms during the filming of GOT, discussed the first time she met Momoa in an interview with Rolling Stone years ago, saying, "I walked in and from the other side of this enormous lobby I hear 'WIFEY!' and this huge Hawaiian man comes bounding over to me, picks me up, and genuinely gets me in a rugby tackle to the floor. It was only when he picked me back up and kind of dusted me off that I was like, 'Who are you?'" Of course, we can absolutely see him doing this.
Also on the show was singer Camila Cabello, who made it a point to fawn over Momoa and Clarke the way any GoT fan would in her position. "I'm sorry. I would just like to say I am the biggest Game of Thrones fan in the entire world," Cabello gushed as she met the actors, admitting she binged all eight seasons in one month. "It's going to take me about the whole time of this interview to recover from this," she added. "I've never fangirled so hard in my life."
We feel you.