Jennifer Aniston Casts Ballot For Biden, Says Voting For Kanye Is 'Not Funny'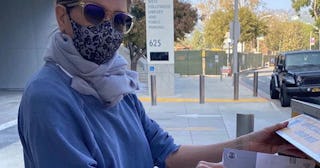 Jennifer Aniston Instagram
Jennifer Aniston schools America on why they should vote for Joe Biden
The day Jennifer Aniston joined Instagram, the world rejoiced. And since the Friends star has a huge platform and nobody has any trust in the president, she's using her platform and celebrity to send out public services messages. Earlier this summer she shared posts on the importance of wearing a mask and how serious COVID-19 is, and today's message is that she's voting for Joe Biden, because she cares about the future of our democracy. Oh, and she slammed anyone who is voting for Kanye West as a joke, because we don't have time for that shit.
Though many famous people simply like to urge their followers "to vote," Aniston shared a photo dropping her ballot in a ballot box on October 23, 2020, triumphantly declaring that she voted for Joe Biden and Kamala Harris and her reasons for doing so.
"I voted for them because right now this country is more divided than ever. Right now, a few men in power are deciding what women can and can't do with their own bodies. Our current President has decided that racism is a non-issue. He has repeatedly and publicly ignored science…too many people have died," Aniston wrote.
There are a lot of people voting with their pocketbook in this election or only voting for the candidate who agrees with their stance on abortion and Aniston writes that "this whole thing isn't about one candidate or one single issue, it's about the future of this country and of the world." She's not wrong! Do you want a normal democracy or do you want to elect a maniac who is way too enthusiastic about fascism?
"I urge you to really consider who is going to be most affected by this election if we stay on the track we're on right now…your daughters, the LGBTQ+ community, our Black brothers and sisters, the elderly with health conditions, and your future kids and grandkids (who will be tasked with saving a planet that our leadership refuses to believe is hurting)," Aniston continued.
Oh, and then she added the best postscript ever, writing, "PS – It's not funny to vote for Kanye. I don't know how else to say it."
Listen to America's sweetheart y'all and vote for Biden, please? Can you do it for Rachel Greene?