Jennifer Aniston Shares Precious Pics On Coco Arquette's Birthday
by Christina Marfice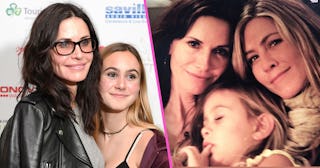 Victoria Jones/PA Imags/Getty and Jennifer Aniston/Instagram
Jennifer Aniston sharing throwback pics of "Cocolicious" is the most godmother move ever, and we love it
The best thing to come out of the Friends era of TV (other than the entire series Friends, obviously) is the stan-worthy friendship between series stars Jennifer Aniston and Courteney Cox that has withstood the test of time and continued to this very day. The two are absolute BFF goals, and over the weekend, Jen showed her support to her bestie's family in the sweetest way: By celebrating Coco Arquette's birthday with some adorable throwback pics.
Coco is Cox's daughter, who just turned 17. And Aniston is her godmother, which truly must be the coolest thing ever. Can you imagine if you could re-do middle school, but with "Jennifer Aniston is my god-mom" in your back pocket to up your cool factor? Lucky Coco.
But what's even better is that the photos Aniston shared show so much love and a genuine bond between these two.
On one part of her stories, Aniston shared a photo that was originally posted by Cox. The photo shows the two besties sitting side-by-side, with a very little Coco snuggled up on both their laps. Honestly, it's so cute you'll melt immediately, fair warning. Aniston shared the pic, tagged Cox and Coco, and added a string of hug emojis for good measure.
The next slide showed Aniston holding Coco as a toddler. Both their hair is blowing in the wind as Aniston and Coco pose face-to-face. Alongside the pic, Jen wrote, "Happy birthday my sweet Cocolicious! Godmama LOVES you."
Um, "Cocolicious?" If that isn't the cutest thing you've seen today, I will be shocked.
Coco also enjoyed birthday shoutouts on social media from her mom, of course, as well as her dad, David Arquette. We can imagine she was feeling all the love for her 17th birthday, as she should. "Happy 17th birthday to my strong, sensitive, creative, loving, soulful, beautiful, talented, and wise Coco. I love you so much," her mom wrote.
Her dad got in on the cuteness too.
Coco has become a little bit of a social media star in recent months, thanks to her famous mom. Cox has posted a number of videos of her and Coco performing music together, and it turns out Coco inherited some of her mom's talent — she has a truly incredible voice.
There's no doubt that kid is going places, with all her talent and her famous family. But having the support of a godmother like Jennifer Aniston can only help, too.