Jennifer Aniston And Ellen DeGeneres Shared A Kiss On Ellen's Show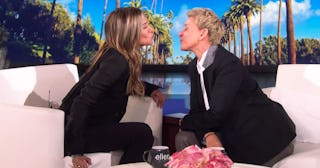 EllenTube/Youtube
Jennifer Aniston just planted a smooch on Ellen DeGeneres' "soft lips" and, yes, you read that right
Admittedly, it's not every day you see Jennifer Aniston and Ellen DeGeneres kiss on national TV. But the longtime pals took their platonic friendship to a new level during an appearance on The Ellen DeGeneres Show on Monday, Oct. 28 — when, well, you might say the women proved their bond was more than just lip service. But to be fair, there was definitely a little, ahem, lip service involved.
It all started innocently enough. DeGeneres pointed out that shock jock Howard Stern had recently been on the show, while Aniston had similarly visited Stern's Sirius radio show. After a little small talk about how he's changed over the years ("He's a big drink of tall, sweet water," apparently), Aniston went straight for the juicy stuff. And by juicy stuff, we mean DeGeneres' lips.
Obviously, there's more to this story. Aniston didn't go from zero to lip-lock in five seconds flat. During Stern's visit to DeGeneres' show, the two had shared a kiss that generated quite a bit of buzz for obvious reasons. "I would like to ask how this kiss happened with him," Aniston asked during her appearance. So, DeGeneres ponied up a pretty sensible response. "He asked for a kiss," she answered. "I don't normally grab anyone who asks for a kiss."
C'mon, though, Jen (read: all of us) needed more deets. "Tell me, how was it? Did you enjoy it? Were you nervous? Did you kind of get into it at all? Or was it just like… when was the last time you kissed a guy?" the Morning Show actress pressed. Feigning indignation, DeGeneres fired back, "When was the last time you kissed a girl on the lips?" When Aniston failed to come up with an answer, the pals shared a sweet kiss — with Aniston declaring, "You have such soft lips!"
"That's what they wanted to see," DeGeneres joked about the cheering audience. "They've been wanting that for years." And, like, she's not wrong, right? As an added bonus, Aniston now has an interesting story if she's ever asked in the future when she last kissed a woman. As an added added bonus, DeGeneres gave Aniston new content for the 'Gram. After all, Aniston did set a new followers' record by joining the social media platform with a group selfie of her former Friends co-stars.
When the subject of the beloved NBC sitcom came up, it was DeGeneres' turn to grill Aniston. Well, technically, it was guest Charlie Puth's turn. His question, along with that of everyone in America's, was whether Friends will ever come back. "Like a reboot of the show? No," Aniston quickly shattered our hearts, er, we mean responded.
However, she teased, "Listen, we would love for there to be something, but we don't know what that something is. So, we're just trying. We're working on something." When DeGeneres dug further about what it could be, Aniston replied, "We don't know! I don't want to lead people on."
If a Friends revival does move forward, though, Aniston may have already lined up the music via her new admirer, Puth, who volunteered to put his spin on the soundtrack. He also volunteered DeGeneres to help him sing the remixed theme song, who shot down the idea.
But give it time — and a few more friendly kisses — and maybe she'll quite literally be singing a different tune.
This article was originally published on