Jennifer Aniston Didn't Know Matthew Perry Had Intense Anxiety On 'Friends'
by Kristina Johnson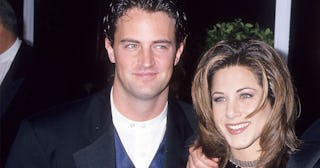 Ron Galella, Ltd./Ron Galella Collection/Getty
Jennifer Aniston said she didn't know about the extreme anxiety Matthew Perry was experiencing while taping Friends
The highly anticipated Friends reunion that debuted on HBO Max last month blessed fans with behind-the-scenes stories and recollections from the famous cast, along with a whole lot of nostalgia for the beloved show. But fans weren't the only ones who learned something new from the special — Jennifer Aniston said that before the special, she was completely in the dark about the intense anxiety that castmate Matthew Perry was dealing with at the time.
"I didn't understand the level of anxiety and self-torture that was put on Matthew Perry, if he didn't get that laugh, and the devastation that he felt," she said in an interview with TODAY. "Which makes a lot of sense."
Perry opened up about his anxiety on Friends for the first time during the reunion special
Perry, who played Chandler Bing, surprising his castmates during the reunion by sharing that having a live studio audience on hand for Friends tapings was difficult. "To me, I felt like I was going to die if they didn't laugh," he explained. "I would sometimes say a line and they wouldn't laugh and I would sweat and just, like, go into convulsions. If I didn't get the laugh I was supposed to get, I would freak out." He recognized that it was "not healthy," but that didn't make it any easier — he said he felt that way every single day of filming. Friends ran for 10 seasons — which means Perry experienced that crippling anxiety for years.
On top of the anxiety he was grappling with, Perry was also struggling with addiction throughout his time on the show.
He once said in an interview that he didn't really remember filming several seasons of the show due to how severe his alcohol and drug use were. It's kind of easy, unfortunately, to see how the anxiety and the addiction were likely linked.
The reaction to the special wasn't exactly kind to Perry, unfortunately — fans openly questioned whether he was slurring his speech during the taping, and whether that meant he had relapsed. A source reportedly chalked it up to emergency dental work and lingering pain, according to The Sun, assuring fans that Perry is doing just fine.
The cast was asked to imagine what sort of lives their characters would be living today in an interview with People before the special dropped. Perry said he thought Chandler would be enjoying happily ever after with Monica and their kids — and we can't help but hope that after so many years of grappling with both anxiety and addiction, Perry is living out some of that happiness in his actual life, too.