Jennifer Garner Is All Of Us At The Bus Stop In Her Bathrobe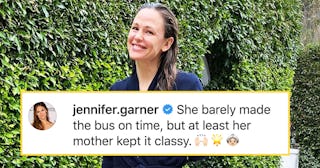 Jennifer Garner/Instagram
Jennifer Garner is just like us: she can't bothered to get dressed in time for the school bus
The types of parents at the bus stop or school drop off can basically be divided into two groups. In the first, there are those who look nice, polished, and put together in regular, adult human attire. They're usually wearing an outfit that matches, and may even have on makeup. And then, the second group consists of the rest of us. We usually appear to be wearing the same clothes we crawled out of bed in, and often, that's the case. If we're wearing any sort of makeup, it's likely because we were too tired to take last night's off. And yeah, our hair is generally a mess. Jennifer Garner, one of our favorite celebrity moms in the world, is totally one of us. The mom-of-three shamelessly shared a photo of her recent school bus stop style on Instagram, and it's beyond relatable.
"She barely made the bus on time, but at least her mother kept it classy. 🙌🏻🌟👵🏻" the 47-year-old hilariously wrote alongside the photo of herself, clad in a monogrammed bathrobe and bedroom slippers, clutching onto her mug of coffee for dear life. (It should be noted that Garner appeared to be freshly showered, so she might have a one-up on us there.)
Garner has three kids with her ex-husband Ben Affleck — Violet, 13, Seraphina, 10, and Samuel, 7 1/2 — so she clearly has a lot going on in the morning.
This isn't the first time Garner has blessed us with one of those "stars, they're just like us" moments. Back in August 2018 she revealed that her car, too, is filled with endless kid crap and that she is constantly removing all the old drinks, clothes, random papers, and unidentifiable foods.
"Every single time I get out of the car. How? Why? #notstaged #notaproblem #ivegotit #iknowyoufeelme" she captioned the hilariously relatable photo.
Also in 2018, she showed off the contents of her mom purse. And while her version of a mom bag probably costs like ten times as much as ours, the items inside are freakishly familiar. Heart stickers, tea stirrers, pens, gems, and a one dollar bill are just a few of the randoms she carries around.
While Garner might be one of our favorite relatable hilarious moms of older kids, she is going to have a run for her dollar bill when Amy Schumer's son, Gene, starts riding the bus. We can only assume that her school bus style is going to be next-level amazing.