Jennifer Garner Takes Her Own 'Funny Over Sexy' Advice And Dresses Up As A Mailbox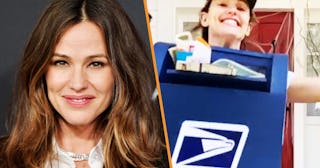 Amy Sussman/Getty and Jennifer Garner/Instagram
Staying true to her promise during a commencement speech earlier this year, Jennifer Garner dressed as a mailbox for Halloween
Jennifer Garner is basically the best person in the universe (fight me) and her social media posts are a non-stop delight. Today's no exception with the adorably hilarious actress revealing her Halloween costume that's anything but "sexy."
In a commencement speech Garner gave this past May at her alma mater, Ohio's Denison University, she advised students to not take themselves too seriously in life. "When it comes to Halloween costumes, go funny over sexy. Why would you dress like a flirty nurse when you could be a mailbox?" Welp. She took that little quip all the way to Halloween and made good on her advice to go silly instead of scintillating.
"Live your truth, people. Happy Halloween," she captions a video of herself emerging from a house wearing, you guessed it, a mailbox. That little twirl, we die. She's honestly the cutest.
I mean, 100 percent zero shame in wanting to dress as a sexy whatever for Halloween. It's a great night to go out as a naughty bunny or librarian or whatever your heart desires. But Garner's advice is solid for those of us who would prefer going goofy over glam. There's nothing wrong with wanting to be funny on Halloween, but walking down the girls' and women's costume aisles at Party City tells another story. Go ahead and try to find a women's costume that isn't a sexy something. The message is loud and clear — this is a night for going scantily clad unless you feel like making a costume yourself.
And it appears that's exactly what Garner did.
She's apparently very into Halloween even weaving the holiday into a sponsored bit for Neutrogena's makeup wipes.
How does she even make an ad entertaining and adorable? She is pure magic.
Last year, the mom-of-three dressed as a witch, complete with green face makeup (we hope she had those handy wipes back in 2018!)
Jennifer, we adore you and your fun attitude toward absolutely all things. Please never, ever change.
This article was originally published on