Jennifer Garner Does Her Mom's Workout Routine In Adorable Video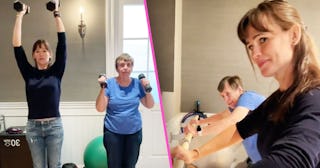 Jennifer Garner/Instagram
Jennifer Garner shared some workout tips from her 83-year-old mother in an adorable Instagram video
If there's anyone cuter than Jennifer Garner — also known as America's Sweetheart — it's gotta be her mom. The actress posted a funny and sweet workout lead by her 83-year-old mother, and she's the kind of personal trainer absolutely all of us deserve: the kind who will belt out show tunes while only making us do 5 reps at a time, and probably never even break a sweat.
"My mom started working out at the age of 80, and at 83, with the guidance of her beloved trainer Mike Irving, she is an expert," Garner explained. "Naturally, I asked Mom to train me during a recent visit." The 4-minute clip begins with Garner's mom Patricia explaining that she usually begins with a circuit, doing five laps or so around the gym before moving on to weights.
"You know, I would make straight A's in college and a C in my one hour of phys-ed," Patricia says.
"Well, I bet you're in a lot better shape than the people you went to college with, mom," Garner tells her, leading to an absolutely hilarious mic drop of a reply from her mother. "Yeah. Probably mostly dead." Gotta love an 83-year-old who can bust out some gallows humor.
Patricia doesn't even need any music to get pumped for her workout. "I do it at home and watch HGTV," she explains to her daughter (and that makes sense to me. Personally, I can totally see how the rage I feel when yet another couple whose occupations are like, part-time dog walker and professional pasta jewelry-maker are house-hunting with a two million dollar budget could totally power me through a workout).
At one point, Garner and her mom have to pause for a technical mishap — Pat hasn't set her Apple Watch correctly, and the workout isn't being logged. "I can't believe I wasted 11 minutes," she laments. "Your body still knows you did it, even if your rings don't know you did it," Garner consoles her mom. But Pat isn't comforted: "The rings are all that matter!" Pat is apparently fixated on the activity rings on her Apple Watch, which close when you hit your fitness goals for the day. By the end of the video, she hits that triumphant milestone for what Garner says is the 221st day in a row.
We should all be so lucky to be as spry and sprightly as Patricia is at 83 — her circuit doesn't seem too taxing, but she's clearly doing something right. If you can't get enough of Pat, you'll want to check out some of her guest appearances on Garner's #PretendCookingShow videos on Instagram — because Pat's got skills in the kitchen as well as the gym. Seeing her in action makes it very easy to see the source of Jennifer Garner's extremely relatable and charming personality — she got it from her momma.