Jennifer Lopez's Mom Busts Out Killer Dance Moves Onstage For Her 74th Birthday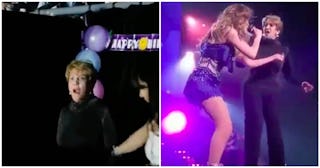 Jennifer Lopez/Instagram
Jennifer Lopez brought her mom Guadalupe Rodríguez onstage to dance it out for her 74th birthday
Jennifer Lopez is 50, gorgeous, still dancing full-out, and rocking a body like a 21-year-old, and now we know where she gets it from. In honor of her mom Guadalupe Rodríguez's 74th birthday, J.Lo brought her mother onstage during a concert to bust a move, and Guadalupe killed it.
In a video posted to J.Lo's Instagram, Guadalupe is seen singing along to her daughter's 2007 song "Hold It Don't Drop It," totally living it up in the audience, when J.Lo surprises her and pulls her onstage. "Are you ready?" J.Lo asks the audience. "My No. 1 fan happens to be in the audience tonight. It happens to be her birthday, too. Say hello to my mother! My mom!"
Without missing a beat, Guadalupe charges the stage, and like she's rehearsed it for months, busts out the choreography alongside her daughter. Guadalupe Rodríguez is everything we want to be as a woman.
After Guadalupe commands the stage, Jennifer gives her mom a gigantic birthday cake and caps the heroic video with a hug. We've always gawked at J.Lo's youthful glow and vibe, and clearly — she gets it from her mama.
"People ask me where I get my energy from, my drive, my dance moves lol…well now you know…Guadalupe… my mommy…for as long back as I can remember, I can see her dancing, laughing and lighting up every room she was in," J.Lo captioned the video.
"She is the definition of youthful and timeless at every age…she loved music and movies and history and musicals and believed in true love…and she put all of that into me…and I am all the better for it," J.Lo continued. "Beautiful as ever, alive as ever and still dancing like a teenager."
Jennifer shared a video of her mom dancing her heart out in an August 2019 tribute post to her late Aunt Rose, and Guadalupe truly demonstrates what it means to be in love with life.
What a damn queen.