Jerry From 'Cheer' Is Going To The Oscars And Coach Monica Filmed His 'Priceless' Reaction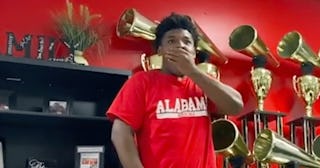 Instagram/Ellentube
'Cheer' star Jerry Harris will be front and center on the red carpet as a correspondent for 'The Ellen Show'
If you've not yet seen the docuseries Cheer on Netflix please cancel all of your plans today and binge watch it immediately. Everyone's favorite mat-mate, Jerry Harris, just received some seriously cheer-inducing news — he's headed to the Oscars to be the Ellen Show red carpet correspondent.
The celebrities at the 2020 Academy Awards are in for a major treat as Jerry will be representing The Ellen Show and it's anyone's guess just what he'll be asking the stars on the red carpet. He was told the good news by Cheer coach Monica Aldama and his reaction is as amazing as he is. Ellen DeGeneres posted the video, captioning it, "We told @jerry.h.arris from #CheerNetflix that he was going to be our red carpet correspondent at the #Oscars. His reaction was priceless."
https://www.instagram.com/p/B8SEEmNn5VT/?utm_source=ig_embed
Jerry is best known for his "mat talk" at Navarro College, where he cheered his way into everyone's hearts. He is the epitome of all that is good in this world, and his positivity and enthusiasm for life are infectious.
"Are you ready for some exciting news?" Aldama asks Jerry in the video. "You're gonna go to L.A. and be Ellen's correspondent on the red carpet at the Oscars!" Jerry covers his mouth, laughing and saying, "When?!"
https://www.instagram.com/p/B7XgFiMAP6b/
"In two weeks!" Aldama responded, adding, "All the stars! You're gonna interview them…They're gonna style you and everything!" Jerry responds by laughing, looking shocked, and trying to figure out if this is some sort of joke or actual reality. "Oh my gosh, oh my gosh!"
The Cheer squad went on The Ellen Show last month to chat and also performed the routine that won them their 14th National Cheerleaders Association National Championship title. "You think that only a few people are going to watch this cheer documentary. But it turns out there are a lot more people than we ever could have imagined," he told Degeneres, who was obviously in love with him as much as we all are.
https://www.instagram.com/p/B79wAvmAbu0/
Jerry was one of the central athletes featured in the docuseries. His love of life is evident even though his road to Navarro wasn't easy. He talks openly about growing up without a lot of money and how being at Navarro was a blessing after his mom's passing. "I have been blessed to have some kind and loving people in my life. My 'cheer moms' have looked out for me and helped me since I lost my mom when I was 16," he explained in an Instagram post.
Personally, I'll be watching the Oscars entirely for Harris's interviews with celebrities because they are bound to be as exciting as the awards themselves.