Jessica Biel Attends Halloween Party As '90s Justin Timberlake (AKA Her Husband)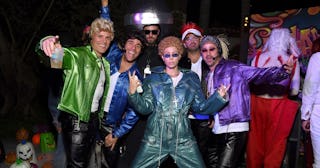 Michael Kovac/Getty
Jessica Biel is a spitting image of her husband, Justin Timberlake, circa 1995
Justin Timberlake and Jessica Biel are known for going all out for Halloween. They've shared their family costumes with the world since son their son Silas was born, but this time (at least for the grown-up party), Biel decided to channel her husband, going as a younger version of JT from his NSYNC days.
The duo stepped out at the star-studded Casamigos Halloween party over the weekend, and Biel looked like a spitting image of her hubby, donning a metallic teal jumpsuit, sunglasses, white sneakers, and curly blonde wig, throwing us all the way back to the mid-'90s. Not to be outdone, Timberlake stood proudly beside his wife dressed as a giant microphone.
I mean, she nailed it.
The pair were later joined by friends to give the entire NSYNC group the reunion we've all been hoping for, even if it wasn't really JC Chasez, Chris Kirkpatrick, Joey Fatone, and Lance Bass.
Perhaps Biel's homage to her hubby came at the perfect time. Biel recently stopped by The Tonight Show with Jimmy Fallon and Fallon played a 1999 video of her saying that she wasn't "a huge fan" of NSYNC.
"To be honest, I don't really listen, I haven't really. I mean I know of them, of course, and I've heard of them, and I've heard the music," Biel said in the throwback clip. "I don't think I own any of their CDs. I'm not a huge fan, um, but, I mean, cool, I guess."
"Cool, I guess." That is comedy gold.
This isn't the first time that Biel and Timberlake won the Halloween costume game. Back in 2016, the couple and their son Silas dressed up as Poppy, Branch, and lil Branch from the movie Trolls. Silas was two-years-old at the time and the happy couple captioned their photo, "We be Trollin'."
In 2017, the family went for a Disney theme, dressing up as the three leads from Toy Story; Timberlake as Buzz Lightyear, Biel as Jessie, and Silas as Woody. "If you see us in these streets then have your candy ready! Trick-Or-Treat, little homies!" Timberlake captioned the sweet photo.
In 2018, the family dressed up as the LEGO versions of iconic DC Universe characters Batman, Harley Quinn, and Robin, captioning that one, "They got candy? LEGO." Adorable.
Silas, now four, didn't attend the very grown-up Casamigos party, but there's a good chance we'll be seeing an all-family costume later this week.