Troll Accuses Jessica Simpson Of 'Nip Slip' And She's Flattered He Thinks Her Boobs Are That Perky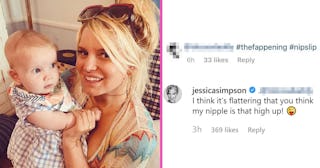 Jessica Simpson/Instagram
Jessica Simpson replies to a troll who commented on her "nip slip" in the best way possible
If you follow Jessica Simpson on social media you know she keeps it real. She's never been one to mince words but now that she's a mom, she reminds us all not to take parenthood (or life in general) too seriously. So, when one dude called her out for possibly showing part of her nipple in a recent picture, she fired back in the best, most Jessica Simpson way.
The mom shared an adorable picture of herself with her daughter, Birdie Mae, next to the caption, "My little labor of love this year." It's impossible to find one single thing wrong in this picture but of course it's the internet and people are nothing if not predictable. But when one follower posted, "#nipslip" in the comments section, suggesting that she was showing a little something, Simpson clapped back in the most hilariously unpredictable way. "I think it's flattering that you think my nipple is up that high," she joked. Praise be, we do not deserve this woman.
Simpson, who has three kids, Maxwell Drew, seven, Ace Knute, six, and her most recent addition, 5-month-old Birdie, with husband Eric Johnson, hasn't been shy in sharing the very real side of motherhood. She's often posted about the ups and downs of pregnancy and life with littles– from her pregnancy cankles to breaking an entire toilet seat by accidentally leaning too far back whilst in her third trimester — and we love her for it. If you've ever been pregnant it's impossible not to relate to her.
Her latest nod to the state of her boobs post-pregnancy and breastfeeding three kids is no exception. Most of ours start perky enough but by the end of having kids, look like deflated elf shoes. Our nipples, which started somewhere in the northern hemisphere, have quickly gone in search of warmer temperatures and are now safely near the equator. It happens to the best of us.
Of course, she still looks as stunning as ever and having kids only makes her that much more beautiful. Regardless of all of that, she's funny as hell and the rest of us can only hope she continues to share pictures of her family, stories about the hilarious side of parenting, and that she continues to politely (or not so politely if she feels like it) remind strangers not to comment on another person's body. Ever.