Jessie J Responds To Comparisons To Jenna Dewan In Instagram Post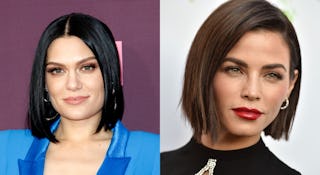 IMAGE VIA TIBRINA HOBSON/AXELLE/BAUER-GRIFFIN/GETTY IMAGES
Jessie J shared some thoughts about all those comparisons between her and Jenna Dewan
So, a little while back Jenna Dewan and Channing Tatum announced that they were separating (news that the internet handled super, super well). Now, Tatum is allegedly dating Jessie J, which has led to a whole lot of comparisons between the two women.
Jessie J has officially weighed in on all those comments and made an important point in an Instagram post.
"There is a story I have seen be rewritten over and over again in the past few weeks that talks about myself being compared directly to another beautiful woman regarding our looks and who people think is prettier," she writes. "I am here to talk about the headline and the way the story has been written, I have continuously tried to find something positive from this article…I am yet to."
https://www.instagram.com/p/BqQR5FRH3LK/
She went on to say that these type of stories don't actually contribute anything meaningful to society. They're also indicative of a larger issue surrounding the treatment of women.
"Who feels good from this story? I know I don't. Who does this story inspire? Is picking who is prettier and then continuing to say why a good activity to participate in? No," the singer writes. "I'm talking in general too. Beyond this story. It's constant with women. Picking favourites. Do the media do it with men? No. Are we learning a positive lesson from it? No."
Jessie notes that she doesn't take stories like this "lightly" because she feels that they will have an impact on the young girls reading it. She talked about her own struggles with insecurity growing up and her mission to inspire other women to feel good about themselves.
"When I got older, [I] decided to spend my career making lots of music to try and help / inspire myself and all other women to see beauty from the inside out and will continue to do so," she explained. "Man does the world need it. Now more than ever."
Yes, yes, yesss to all that.
The perfect cherry on top of all this? Jenna Dewan responded through an Instagram story and applauded Jessie's message. Prepare for your heart to feel very happy.
"Amen Jessie! Yes!!!! Women for women all the way. No Need for negativity," Dewan wrote. "Let's live in a world where we support each other and raise each other up. Like I said before, positive vibes all the way. Nothing but respect."