Jill Biden Finally Responds To That Sexist, Garbage WSJ Op-Ed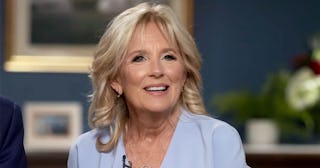 The Late Show with Stephen Colbert/YouTube
"It was really the tone of it," Dr. Biden told Stephen Colbert
Last Friday, the Wall Street Journal — to everyone's surprise — ran a sexist, condescending op-ed about Dr. Jill Biden, where the author urged the First Lady-elect to drop her "Dr." title. As expected, the piece was met with a tsunami of backlash, where virtually everyone came to Biden's defense, from former FLOTUS Michelle Obama to countless women in academia. And nearly one week since the op-ed was published, Dr. Biden has finally responded to the piece.
During an appearance on The Late Show on Thursday night, Biden told host Stephen Colbert that the heavily criticized op-ed was "such a surprise."
"It was really the tone of it," she said. "He called me 'kiddo.' One of the things that I'm most proud of is my doctorate. I mean, I worked so hard for it."
Dr. Biden then addressed those who came out in support of her and her hard-earned honorific.
"I am so grateful and I was just overwhelmed by how gracious people were," she said.
In the despicable WSJ-published piece titled "Is There a Doctor in the White House? Not if You Need an M.D.," author Joseph Epstein — who, it should be noted, does not have a real doctorate — not only referred to Dr. Biden as "kiddo," but he also urged her to drop the "Dr." title because her doctorate isn't in medicine.
"Madame First Lady—Mrs. Biden—Jill—kiddo: a bit of advice on what may seem like a small but I think is a not unimportant matter. Any chance you might drop the 'Dr.' before your name?" Epstein starts.
"'Dr. Jill Biden' sounds and feels fraudulent, not to say a touch comic. Your degree is, I believe, an Ed.D., a doctor of education, earned at the University of Delaware through a dissertation with the unpromising title 'Student Retention at the Community College Level: Meeting Students' Needs,'" he continued. "A wise man once said that no one should call himself 'Dr.' unless he has delivered a child. Think about it, Dr. Jill, and forthwith drop the doc."
Michael LaRosa, a spokesman for Dr. Biden, addressed the op-ed, calling it a "disgusting and sexist attack." He also urged WSJ to remove it and apologize to Dr. Biden. "If you had any respect for women at all you would remove this repugnant display of chauvinism from your paper and apologize to her," LaRosa tweeted.
Dr. Biden, who also has two master's degrees, is a lifelong educator who has worked as an English professor at Northern Virginia Community College since 2009. And when she steps into the role of First Lady, she will be the first FLOTUS in the role's 231-year history to keep a paying job while living in the White House and serving as First Lady.