Get Ready To Laugh: Jim Carrey Is SNL's New Joe Biden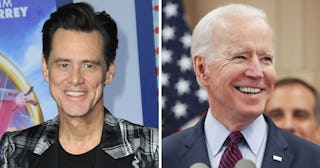 Albert L. Ortega/Mario Tama//Getty
One more reason to vote for Joe Biden: So we'll get to see Jim Carrey as a regular on Saturday Night Live
There are so, so many reasons to vote for Joe Biden in the election on Nov. 3: He believes in climate change, which is decimating our country with deadly wildfires right now; he has never tried to downplay the seriousness of the coronavirus pandemic like Donald Trump has; he isn't regularly and outwardly racist; and he's never used tear gas to clear protesters so he could take a staged photo at a church, just to name a few. But now there's another reason to vote Biden in November: Saturday Night Live has cast Jim Carrey to impersonate him.
Carrey might be the only comedic actor who can stand up to the force that is Alec Baldwin as Donald Trump. He was Ace Ventura. He was The Grinch. Now he is Joe Biden, and it's the most perfect casting we think we've ever seen.
Just think of what a waste it would be if Carrey only got to appear on a handful of episodes spoofing debates and the campaign trail. No, we want at least four years of him playing Joe Biden on TV.
Carrey isn't an official SNL cast member, but he's hosted the show twice. This isn't the first time the show has hired an outside actor to portray a major political figure. There's Baldwin, who was brought on just to play Trump. There's also Melissa McCarthy who joined to portray White House Press Secretary Sean Spicer (to hysterical perfection), and Matt Damon who appeared a number of times to impersonate Supreme Court nominee Brett Kavanaugh. The show has also been known to bring back past cast members for these kinds of roles, like Rachel Dratch as Senator Amy Klobuchar, and, of course, Maya Rudolph as vice presidential candidate Kamala Harris (AKA, The Funt).
"I honestly don't see them as celebrity cameos," SNL executive producer Lorne Michaels recently told Vulture. "[They're] just part of an extended group in the same way that if Tina Fey had something meaningful to say on Update, we'd welcome her… And also, you're talking about candidates who are in their 70s. When you put someone [who's] 28 in that makeup, it's just different."
He's got a point. There's no one on the current cast who would look right as Biden, and Jim Carrey seems like the perfect pick to us. Now go vote so we can make the guaranteed hilarity long-term.