'This Is Baby': The New Children's Book You Need In Your House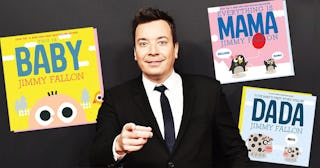 Scary Mommy, Amazon and David Crotty/Getty
"It all started as a joke," Jimmy Fallon said. (To me. On the phone. That's right, he called me. Because we're BFFs, obviously, and we're having Thanksgiving dinner together with Justin Timberlake and fam this year.) Okay, maybe that last part is a lie, but yes, I actually did interview THE Jimmy Fallon via phone about his new children's book "This Is Baby."
And yes, he did admit that his first dip into the children's book writing pool started as a joke. Of course it did. Because he's Jimmy Fallon.
Fallon's first book, "Your Baby's First Word Will Be Dada" was born out of the idea that he really wanted his baby's first word to be "Dada." (It wasn't. It was "Mama." But the book is still awesome.) Then, something happened that Fallon didn't expect. After the book debuted, he began receiving messages, videos, and tweets telling him that kids were learning to read with his book. And as a loving dad who says he's been reading to his kids since day one, there was nothing better than hearing that. So he kept going and wrote two more. And parents everywhere are grateful.
"This Is Baby" is all the things you really need in a children's book. It's educational (teaching baby where their knees, hips, and elbows are), it's got adorable illustrations from the incredibly talented Miguel Ordóñez that include a diverse group of babies as well as monkeys, puppies, elephants, and fish, and it has a sentimental ending that will pull at any parent's heart-strings.
Plus, it rhymes because, as Fallon tells Scary Mommy, "Rhyming books are cool." He's not wrong.
And the best part? "It's short. But it still counts," Fallon says. As a busy dad of two girls (Winnie, age 6, and Frances, age 4), Fallon knows how tired we all are at bedtime, yet we know the importance of reading to our kids.
"This Is Baby" is interactive, with the intention that as you read "These are baby's fingers" and "These are baby's toes," you actually point to your child's fingers and toes. See? Educational.
But, bonus! After a long day of negotiating with your tiny dictator and dreaming of them going the fuck to sleep so you can pour a glass of wine and veg out in front of The Tonight Show (because of course!), you can plow through this book in like one minute if you want to. Or you can read it 82 times in a row because it will be your kid's favorite and they'll demand you read it over. And over. And over.
He also let us in a little secret. Turns out the very funny Jimmy Fallon who has been cracking us up since his "Weekend Update" days on SNL is actually a giant softie. He tells Scary Mommy that super sentimental children's books like "Love You Forever" gut him and he can't get through them. So as an emotional and loving dad, he wanted to add a sentimental twist at the end of his book as well, but not one that makes us ugly cry while we are clutching our sleeping toddler's stuffed giraffe and scrolling through baby pics in our phone. (Or am I the only one who does that?)
So yes, "This Is Baby" is a quick, interactive, educational read that will gently tug at your parenting heart-strings. It's got it all. (And I'm not just saying that because Jimmy Fallon called me on the phone.)
And, probably the best part of owning his book is hearing that just like most parents, this hilarious celeb dad is just a tired guy who is just as obsessed with his kids as we are with ours. When we asked him what his favorite part of being dad was, he said it's just holding hands with his girls. (Awwwww.) And he also confessed that he's been known to compulsively share photos of his girls to anyone and everyone—even cab drivers.
"My phone used to be pictures of sunsets and brunches," Fallon says. "But now it's full of pictures of my kids like doing nothing." After he caught himself showing a pic of his daughter Winnie simply standing in a corner and gushing about cute she was, Fallon knew he'd officially reached peak dad-hood.
He also shared another common parenting truth—raising your second child is a totally different ballgame. With his first child, he and his wife Nancy were so protective and kept her in a bubble, and with #2, they're like "Here are the car keys." And he laments that they really are growing up so fast. "I can't believe I'm saying this," he admitted, "but I miss Dora." Like most of us, he thought hearing the backpack song one more time might actually drive him bonkers. But now… well, "Now I find myself watching it and saying, 'Can you say biblioteca?' all by myself," he said.
Oh, how I can relate. Never did I think I'd miss Thomas the Train. But now that my kids watch superhero movies where everyone shoots and kicks each other, I do long for the simplicity and innocence of Imagination Station and Sir Topham Hatt. So we get it.
And finally, I was able to ask him the most important question of all: Does Silas Timberlake have a copy? To which he replied, "He got the first one."
Get your copy of This is Baby everywhere books are sold (and when you leave your Amazon review, make sure you let him know his BFFs at Scary Mommy say hi, and that we'll see him on Thanksgiving. We'll bring the pie.)
This article was originally published on