Dads Know Nothing About Their Kids In Kimmel Father's Day Survey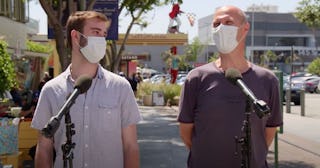 Jimmy Kimmel Live/YouTube
Apparently, little things like birthdays and allergies aren't that important
Late night talk show host Jimmy Kimmel is known for randomly surveying people on the street about all sorts of things for his show Jimmy Kimmel Live's "Pop Quiz" segment. In honor of Father's Day, Kimmel's team went to a local farmer's market to ask some dads how much they know about their kids. Unfortunately, at least for these dads, the "knowing" was significantly less than the "not knowing."
"In honor of Father's Day, we wanted to put some dads to the test," the YouTube description reads. "So we went out on the street and asked them to answer basic questions about their kids."
Kimmel opened the video by saying there's a stereotype that dads don't pay much attention to facts about their kids. It turns out, he's right — at least for these dads anyway.
The first dad really started things off with a bang by not knowing his son's birthday. Not only did he not know the actual day, but he also couldn't seem to get the month right either.
"I'm guessing here and I'm saying March the something," he said while his adult son nervously laughed beside him. Turns out, his son's birthday is Sept. 1.
Next up was a dad who didn't know his daughter's best friend, even though he met her that day. It's Stella, big guy. Her best friend is Stella. But that's not the worst part. He also couldn't seem to remember her middle name. That one stings a little more.
Kimmel's team then interviews an adorable father/daughter duo, but unfortunately, Dad seems to believe his little girl is already 7. She kindly reminds him that, although she's about to turn 7, she's still very much 6 years old.
The next guy is actually wearing a "Best. Dad. Ever." shirt, which is amazing on its own, but unfortunately doesn't know his daughter's blood type.
"Sir, you're going to have to forfeit the shirt," the producer says. OK, blood type can be a hard one, but the next dad firmly answers that his daughter has never played a musical instrument when, in fact, she played the piano — for five years. That seemed to jog his memory a bit. "Yeah, that sounds familiar," he said sheepishly.
Cue more dads not knowing the name of their kid's school, allergies, and their babysitter's name, and the cringing that happens as you watch. Here's hoping there were a whole bunch of dads who didn't make the cut because they actually know things about their kids.
At the end, they went back to the birthday dad and asked him if, after being told the correct day, he could now tell them his son's birthday. I think you know where this one's going.
"Thank you very much for making me look stupid," he said after forgetting his son's birthday — again.
"I think you did that all on your own, big fella," Kimmel replied. Indeed, he did.
This article was originally published on