'Fixer Upper' Star Shares The Parenting Advice We Desperately Needed To Hear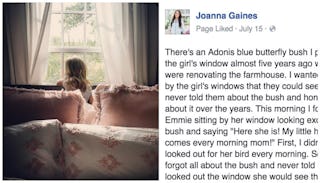 Image via Facebook
Joanna Gaines' poignant parenting advice is going viral
We love Joanna Gaines for her incredible talent as a designer on HGTV's Fixer Upper, but it turns out that's not the only thing she's great at. Gaines recently took to Facebook to share a sweet parenting lesson she recently learned, and her words of advice are so poignant, they're going viral.
On her official Facebook page, Gaines shared a photo of her daughter looking out the window at an Adonis blue butterfly bush. "I planted [it] by the girls' window almost five years ago when we were renovating the farmhouse. I wanted butterflies by the girls' windows that they could see and enjoy," Gaines explained. "I never told them about the bush and honestly I forgot about it over the years."
That is, until one morning last week when she walked in the bedroom to find her daughter staring excitedly at the bush and saying, "Here she is! My little hummingbird comes every morning mom!" Wrote Gaines, "First, I didn't know she looked out for her bird every morning. Second, I forgot all about the bush and never told her if she looked out the window she would see the prettiest butterflies and hummingbirds gathered around it. It's hard not to think this is a lot like parenting."
She continued, "You sow seeds early on and work hard to be intentional and then over time you move on to new lessons and challenges. Then one day you look up and the seeds you planted in your little children's hearts are now in full bloom. Be encouraged today to keep pressing in and tending to their hearts. It will be worth it."
Gaines probably wasn't expecting her heartfelt words to go viral, but since her post went up, it's been shared almost 74,000 times and garnered a whopping 422,000 likes. Hundreds of people have left comments thanking the mom of four for her wisdom and saying it's exactly what they needed to hear. Wrote one, "What is really amazing is when they grow up and all of a sudden it seems they are 30 years old then you hear them repeat something valuable you taught them and you realize with warmth in your heart that they really were listening! [sic]"
Most of the time, parenting doesn't feel much like planting seeds. Usually, it's more like yelling "put your shoes on" into the void, or having a serious conversation in the car and then realizing your kid has been staring out the window and not paying attention the entire time. But, they're listening, even when we don't see it, and they're absorbing more than we realize.
Gaines' post went so massively viral, because it's a reminder that the work we're doing as parents actually matters, and that's something each of us desperately needs to hear. No matter your circumstances or how you choose to raise your family, parenting is a tough gig. But, every day our kids are growing and learning and taking it all in And, one day, we'll look up and see the seeds we worked so hard to sow — the ones we weren't sure would ever bloom — have actually grown into something more beautiful than we ever imagined.
This article was originally published on