Why HGTV's Joanna Gaines Is My Spirit Animal
by Annie Reneau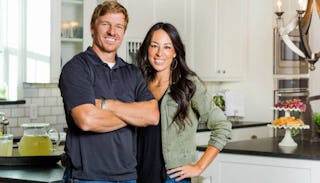 We bought a house a year ago. Right about that time, I discovered the home improvement crack that is the HGTV show Fixer Upper. If you haven't seen it, don't start. You will immediately want to run to your closest flea market to hunt for reclaimed wood shelving and will start tearing off your walls in the hopes of finding shiplap underneath.
Don't know what shiplap is? I didn't either, but now I must have it. I must have shiplap and subway tiles and a neutral warm-gray palette and antique lighting. I must go shopping at Magnolia Market and buy all the things. Never mind the fact that it's 1,898 miles from my house. (Yes, I Google mapped it door-to-door.) That's OK—I'll just move to Waco, Texas.
No one but Chip and Joanna Gaines could make millions of Americans wish they could move to Waco, Texas. Seriously.
I've always loved watching HGTV shows—the contrived banter of Love It or List It, the exotic locales of House Hunters International, the hot Property Brothers, and the even hotter Cousins Undercover. But nothing has brought out my inner DIYer like Chip and Jo. With each episode, it's like Jo has entered my brain and designed my dream home. She knows exactly what I like. She has all of my taste and knows exactly how I would stage things if I had her talent. She is my spirit animal.
I daydream about Joanna Gaines waltzing through my front door in her flowy shirt and skinny jeans, telling me which walls we should move. I imagine Chip sauntering in with his boyish charm and goofy sense of humor to tear the whole house apart while still retaining its 1930s charm. If they showed up at my doorstep tomorrow, I wouldn't hesitate to gut the place, to toss every last piece of our furniture and decor that doesn't match my and Jo's unified vision of domestic perfection.
Forget that fact that the staging on the show is all for show. Forget the fact that the people buying those homes still have to figure out where to put all their crap. Forget the fact that we don't have $85,000 for a full gut job because house prices where we live are triple what they are in Waco. I don't care about any of that, because shiplap, people.
There's a certain tyranny to home renovation shows like Fixer Upper, isn't there? I mean, I love it madly, but deep down I realize I love it because they want me to love it. Those HGTV producers are very, very good at playing on our dreams and wishes. We're all drawn to beautiful homes, to dramatic before-and-afters, to rooms decorated in specific color palettes right down to the books on the shelves. They make us want it. And they make us think we can do it.
But they really don't depict the full reality of home improvement. My husband and I have remodeled a bathroom all the way to the studs. We've painted every room in a house. We've redone moldings and refinished furniture and replaced hardware. And let me tell you, it takes a heck of a lot longer than an hour with commercial breaks. Those shows condense the process to totally unrealistic standards, not to mention costs. Why does a similarly remodeled kitchen cost $10,000 in some shows and $25,000 in others? Why don't you see the renovators drive back and forth to the hardware store six times a day for parts they didn't realize they needed? And seriously, six weeks for a gut job? They must have a crew of dozens working full-time to meet that deadline. Do their salaries get added to those estimates? I don't think so.
Oh sure, they always throw us a bone—some unforeseen asbestos pops up or they find out the wall they were going to move is load-bearing—and for a full two minutes, you worry that the whole project is going to come to a screeching halt. Then, miraculously, right after the commercial break, someone comes up with thousands of dollars to fix whatever went wrong, and we're back on track! Never mind that in real life it would be a week of calling around and waiting for estimates, followed by the stress of budget crunching, and then the time it takes to actually remediate the issue—a two-minute setback on TV could easily be a two-month delay in real life.
But we don't really care, do we? We love the perfect hour-long story and reveal at the end. We want it to be that easy. And we don't rain on Chip and Joanna's charming, vintage parade because we love them too much. They are our people, our home style gurus, our television BFFs. We keep coming back for more because Joanna Gaines is gorgeous and a freaking genius, Chip is the industrious and hilarious husband we all want, their kids are polite and adorable, their farm is Americana incarnate, and we feel a deep, indescribable longing to live vicariously through them.
Maybe they make house calls. 1,898 miles isn't really that far, is it? That would take like a minute to travel on their show. Come on, Chip and Jo. Show mama the shiplap. I'm ready to see my fixer upper.
This article was originally published on