The Original Ariel Has Spoken About Casting Halle Bailey in 'The Little Mermaid'
by Christina Marfice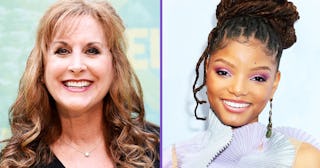 Jenny Anderson/Leon Bennett/Getty
Here's what Jodi Benson, the "original" Ariel, has to say about Halle Bailey being cast in The Little Mermaid
A lot of people have been sharing their, um, opinions since it was announced that Halle Bailey was cast as the lead in Disney's upcoming live-action remake of The Little Mermaid. While there are many Bailey fans who are here for this iconic casting, there's also been a lot of racist backlash, because the racists are the reason we can't have nice things.
Maybe now, though, this can all be put to rest. Because one woman has spoken, and if anyone has the right to have the final say about who should play Ariel, it's this woman: Jodi Benson, who voiced Ariel in the original animated film.
Benson was at a recent appearance at Florida Supercon, where she was asked about her thoughts on the controversy surrounding Bailey ever since she earned the role. Here's what Benson had to say about all this.
"I think that the spirit of a character is what really matters. What you bring to the table in a character as far as their heart, and their spirit, is what really counts."
Can I get an amen to that? But that's not all.
Benson continued, "And the outside package — cause let's face it, I'm really, really old — and so when I'm singing 'Part of Your World,' if you were to judge me on the way that I look on the outside, it might change the way that you interpret the song. But if you close your eyes, you can still hear the spirit of Ariel. We need to be storytellers. And no matter what we look like on the outside, no matter our race, our nation, the color of our skin, our dialect, whether I'm tall or thin, whether I'm overweight or underweight, or my hair is whatever color, we really need to tell the story."
So, yes to all of this. We know that Bailey will have the spirit of Ariel, that she'll tell the story, that she'll sing beautifully and bring all her talent and years of honing it into this role. People who are capable of seeing beyond skin color can see that. But then there are the racists.
There's a whole bunch of people who are pissed off that Bailey doesn't have red hair, as if wigs and hair dye don't exist. There's also a bunch of people who are pissed off because they think Ariel is Danish (read: white) because the book version of the fairytale was originally set in Denmark? I'm going to just let Freeform handle that one because they addressed it more eloquently than I ever could.
"The character of Ariel is a work of fiction," the network wrote. "So after all this is said and done, and you still cannot get past the idea that choosing the incredible, sensational, highly-talented, gorgeous Halle Bailey is anything other than the INSPIRED casting that it is because she 'doesn't look like the cartoon one,' oh boy, do I have some news for you…about you." Straight. Fire.
Halle Bailey is going to be a perfect Ariel, and Disney's efforts to make its casting more inclusive are on the right side of history. Unlike the poor, unfortunate, racist souls who should find something more worth their energy to be upset about.
This article was originally published on