Joe Biden's 'We Just Did' Hat Is Peak Petty And The World Is Here For It
by Julie Scagell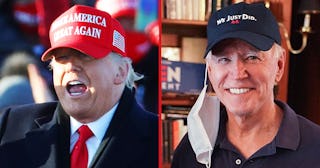 Taylor Hill/Getty and Dr. Jill Biden/Twitter
People are speculating his hat is a direct answer to the MAGA-wearing crowd
As we all continue to celebrate at home, in the streets, and wherever else the mood strikes us that Joe Biden will be our next president, his wife, Dr. Jill Biden, took to Twitter to have a little celebration of her own. While the picture of her covering the word "Vice" is adorable, one TikTok user pointed out it's Biden's hat that is the real star of the show.
At first glance, one could have easily missed the fine print in Biden's navy blue hat. But looking a little closer is says, "We Just Did" with the number 46 underneath. Now, on its own, it may just be a nod to the fact that he's just won one of the most important elections in the history of this country. But, put it next to Trump's hideous red hats we've had to endure for the past four-plus years and it takes on a glorious life of its own.
TikTok user @shonaghforbes posted a hilarious video showing Biden's "We Just Did" hat next to Trump's "Make America Great Again," one and it seems our new president is just the right level of petty we've so needed in our lives.
https://www.tiktok.com/@shonaghforbes/video/6892463583603576065?sender_device=pc&sender_web_id=6788864477925246469&is_from_webapp=1
While most who voted for Biden don't need 1000 flags, signs, and pieces of clothing bearing his face on them, people on Twitter were quick to point out that if these puppies go on sale, they will most definitely be purchasing one to wear with pride. Could anyone blame us?
Now, no one knows for absolute sure this was Biden's intent but the most-likely-rebuttal-hat will be forever adorned by his followers as such. With all the MAGA hat-wearing people that have surfaced, all the car and boat parades, flags flying, and conspiracy theories, this seems like a drop in the bucket type of trolling that should be allowed.
Of course, Trump still hasn't conceded the election and continues to send his legal team to fancy press conferences at the Four Seasons Total Landscaping to remind people he will be suing all the counties he's losing in for a recount.
But back to the fact that Joe Biden will be our next president. One of his granddaughters, Naomi Biden, shared the moment the announcement was made with a sweet picture of him surrounded by his grandkids with the simple caption, "11.07.20."
We've also gotten a glimpse of his daughter, Ashley Biden's, personality when she couldn't stop herself from gleefully dancing on stage during Biden's acceptance speech. She is President Elect Biden's only daughter with wife Jill.
She and brother Hunter even announced him at the (virtual) Democratic National Convention. "He'll be rock steady…he'll treat everyone with respect no matter who you are," she explained. "He'll love you with all of his heart."
It seems Biden is quickly making America great even before he's officially in the job. Biden is reaching out to governors and mayors of large cities from both parties to urge mask mandates. He's also announced we will be rejoining the Paris Agreement and laid out a plan for his first 100 days on his website, including an actual transition plan. America, is seems, is getting better already.
This article was originally published on