Joe Jonas Shows Up To Jonas Brother-Themed Cycling Class, Chaos Ensues
by Madison Vanderberg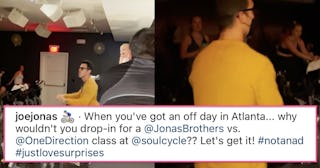 Joe Jonas Instagram
Joe Jonas randomly showed up to a Jonas Brothers-themed Soul Cycle class in Atlanta, Georgia to surprise everyone
Joe Jonas is currently working in Atlanta, Georgia, so when he had a random day off from work he decided to look for a workout class nearby to take, which is when he saw that Soul Cycle was offering a Jonas Brothers Vs. One Direction-themed class. Joe, a guy who "just loves surprises," decided to show up at the class and see what happens. Spoiler alert: everyone freaked out.
"When you've got an off day in Atlanta… why wouldn't you drop-in for a @JonasBrothers vs. @OneDirection class at @soulcycle?? Let's get it!" Joe captioned the now-viral video, making sure to say that it wasn't an ad for Soul Cycle he just likes doing silly stuff like this.
Joe tried to book a bike for the class but it was full, so he drove over anyway and asked the front desk if he could join when they realized that he was actually a Jonas Brother and asked if he wanted to surprise the class anyway.
"The class is sold out, but I'm gonna walk in and see if I can say hi to some people," Joe shared in the video.
So Joe waltzes into the class in jeans, a cardigan, and a mask and everyone's like, "Who is this guy?" Finally, the instructor recognizes that it's Joe and says "Oh holy shit! Joe Jonas everybody! We're real right now! This is live!"
Joe then got up on the podium bike and spouted off some Soul Cycle-isms like "Let's push it" and lol, what a king.
Also, please look at this woman's face when she realizes that the man in the mustard cardigan is actually Joe Jonas.
Later, the instructor commented on Joe's post that it was the "first time I have gone speechless over the mic. Thank you for that epic surprise today!" Also, Joe's epic ride has already become a meme.
No idea why Joe is in Atlanta, but the other cool thing about this gimmick is that in the video, a woman's voice is heard saying "let's get it" with a very specific British accent which makes me think that woman's voice is actually Sophie Turner's. I just really love the idea that Sansa Stark and a Jonas Brother crashed a random cycling class on a Friday afternoon in Atlanta. What a sight.
I mean, I knew it before and I still know it now but Joe Jonas and Sophie Turner are goals, yes? Yeah, they're effing goals.