John Legend Matches Chrissy's Tattoo Honoring Their Late Son Jack
by Valerie Williams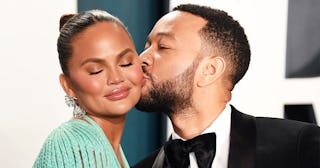 Karwai Tang/Getty
John Legend got a tattoo honoring baby Jack that looks exactly like Chrissy's
Over the weekend, Chrissy Teigen shared a sweet tribute to her late son Jack, who passed after pregnancy complications involving her placenta. She got a tattoo on her wrist of his name and now, John Legend appears to have gotten the exact same tattoo in the same spot on his wrist.
Photos of the couple's matching ink were shared on celebrity tattoo artist, Winter Stone's, Instagram page.
It was early Sunday morning that Teigen revealed her tattoo in a photo she shared on Twitter.
Chrissy also has a tattoo that says "John – Luna – Miles," for her husband and their daughter Luna Simone, 4, and son Miles Theodore, 2. Legend has a matching tattoo with the names "Chrissy – Luna – Miles." Now, Jack is on there right along with the rest of the family.
The couple lost their son just over a month ago and shared the news in a heartbreaking Instagram post. "We are shocked and in the kind of deep pain you only hear about, the kind of pain we've never felt before. We were never able to stop the bleeding and give our baby the fluids he needed, despite bags and bags of blood transfusions. It just wasn't enough," they wrote.
Last week, Teigen shared a post on Medium detailing their loss and the weeks after. In the essay, she made clear that the photos the couple chose to take in the moments after Jack passed are part of their grieving process — and that she's not concerned what anyone else thinks. "I cannot express how little I care that you hate the photos," Teigen writes. "How little I care that it's something you wouldn't have done. I lived it, I chose to do it, and more than anything, these photos aren't for anyone but the people who have lived this or are curious enough to wonder what something like this is like. These photos are only for the people who need them. The thoughts of others do not matter to me."