Wine-Drunk John Legend Serenades Himself At Universal Studios
by Kristine Cannon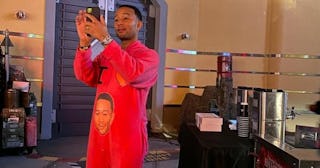 John Legend not only wore a onesie with his own face on it, but he also gave a legendary performance of his hit song
In an impromptu move, John Legend — drunk on wine and wearing a onesie with his face on it — hops on stage at Universal Studios and begins singing a pitchy, slurry version of his 2013 hit, "All of Me." No, this isn't the start of a joke or a bit in a sitcom. This was Chrissy Teigen's — and the lucky Universal Studios-goers' — incredible reality the night of Nov. 1. And we couldn't be more jealous.
"John got wine drunk and sang a song at Universal Studios last night," Teigen captioned a video of husband Legend that she posted on Twitter the next morning. As Legend hilariously sings his own song off-key, the camera pans over to Teigen, whose face says it all:
According to Legend's Instagram post, he and Teigen took a trip to Universal Studios to attend the last night of Halloween Horror Nights. Because the costume theme was onesies, he raided their closet to find — and ultimately wear — a onesie with his face on it.
"We bought a few new ones and raided the closet too and found the perfect one for me to wear. Someone made Chrissy a onesie with my face on it and of course I had to wear it. Then I found a reluctant DJ with a mic and serenaded myself. It was a night," Legend captioned the video.
"The whole joke was supposed to be that literally no one was watching or at the stage," Tiegen says in response to her own tweet, "but then he got on stage and was like ITS ME JOHN LEGEND."
The rest of the responses to Legend's legendary Universal Studios performances were great, too.
Some suggested he release an entire album of drunk versions of his hits:
Others simply want more:
While some have definitely heard this version of Legend's song before:
https://twitter.com/jetpack/status/1190704391768031232
For Halloween, the Teigen-Legend family went all-out for their costumes, with Teigen dressed as Maleficent and Luna dressed as a "sleeping beauty fairy."
"Miles is the owl from Sleeping Beauty, but he refused to wear the owl head," Legend wrote on Instagram.
Leading up to Halloween, however, Teigen has not only given fans sneak-peeks to her upcoming Cravings project, which included launching a brand-new Instagram account for it, but she also recently opened up in a moving Vanity Fair piece about living with anxiety.
"I'll get a new dog and be like, 'This dog is going to die in my lifetime,'" she says in the piece. "The second we land somewhere on vacation I think, 'Oh, it's going to be so sad to pack.' I've never said, 'Oh, I'm so excited for this job.' I'm more, 'One day it's just going to end.'"
Teigen continues to say that she's such an open person now because everyone in her family has always been so "hush-hush." "I love attention and affection. I want to be direct with everyone," she says.
This article was originally published on