Support Pours In For John Mulaney After He Reportedly Checks Into Rehab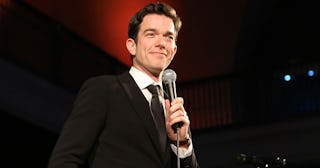 Sylvain Gaboury/Patrick McMullan/Getty
Messages of support are pouring in for John Mulaney after reports that he checked into a rehab center
One of the scariest, most sinister things about addiction is how someone can be struggling to beat it, but on the surface, no one can tell anything is wrong. Some of the most successful people fight a daily battle against this insidious disease, and it truly is a fight that lasts for a lifetime. We got a reminder of that this week, when reports hit that comedian John Mulaney had checked into a rehab center after relapsing into his addiction.
Mulaney has long been open about his sobriety and struggles with drug and alcohol addictions.
"I drank for attention," he said in an interview with Esquire last year. "I was really outgoing, and then at 12, I wasn't. I didn't know how to act. And then I was drinking, and I was hilarious again."
In that interview, Mulaney also explained how he got into harder drugs, like cocaine and prescription painkillers.
"I wasn't a good athlete, so maybe it was some young male thing of 'This is the physical feat I can do. Three Vicodin and a tequila and I'm still standing," he said. "Who's the athlete now?"
After giving up drugs and alcohol at the age of 23, Mulaney became sober. He describes how that happened to Esquire in August 2005. "I went on a bender that weekend that was just, like, fading in and out of a movie," he says. "It was just crazy. A weekend that was . . . there were…" he says. "I'm never going to tell you. That's mine. I didn't kill anyone or assault anyone. But yeah, I was like, You're fucking out of control. And I thought to myself, I don't like this guy anymore. I'm not rooting for him."
It's something he's touched on in his stand-up shows, like in his Netflix special New In Town, when he talked about how people are often surprised to learn that he doesn't drink.
"I used to drink, then I drank too much, and I had to stop," he said. "That surprises a lot of audiences because I don't look like someone who used to do anything."
Mulaney's rep hasn't responded to requests for comment from any of the news outlets that have spread the news of his relapse. But since that news hit, support has been pouring in for the comedian on social media.
As many fans and colleagues have pointed out, 2020 has been such an awful year, in many ways that might make battling addiction even harder. Many people are out of work and cut off from friends and family, not to mention all the constant anxiety and stress and fear that comes from living in a time of unprecedented political division, economic upheaval, and a deadly pandemic.
We wish nothing but the best for John Mulaney and his loved ones, and we hope his recovery is quick and goes well.