Johnny Depp Loses Libel Case, Judge Says Calling Him A 'Wife Beater' Is 'Substantially True'
by Julie Scagell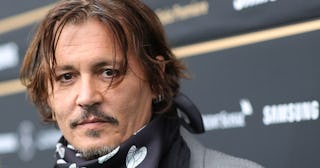 Andreas Rentz/Getty
Depp filed the lawsuit in 2018 against the publication
Actor Johnny Depp lost his libel case against British tabloid The Sun who referred to him as a "wife beater" during his relationship with ex-wife Amber Heard. His lawyers said at the time that Depp was "entitled to very substantial damages" because of the impact on his reputation.
British judge Andrew Nicol claimed there was "overwhelming evidence" that he had assaulted Heard repeatedly during their marriage. In dismissing the case, Nicol said the defendants had shown what they published was "substantially true," including that he'd hit Heard and pulled out clumps of her hair. "I accept that Mr. Depp put her in fear of her life," the judge wrote.
Depp initially filed his case against News Group Newspapers, which publishes The Sun, and its executive editor, Dan Wootton, who wrote an article in 2018 saying Depp had been violent on at least 14 occasions.
Both Depp and Heard participated in a three-week hearing at London's High Court in July where they both relayed incidents of abuse. Depp claimed that his then-wife had regularly attacked him, telling the court that he lost part of his finger after she threw a vodka bottle at him. Depp's former long-term partner Vanessa Paradis and his ex-girlfriend actress Winona Ryder both gave witness statements stating he was never violent to them during those relationships.
According to The New York Times, women's rights groups and lawyers were happy with Nicol's decision. "This is an important ruling and one which we hope sends a very powerful message: Every single survivor of domestic abuse should be listened to and should be heard," Lisa King, a spokeswoman for Refuge, a British charity for survivors of domestic violence, said in a statement.
Nicol said in his written judgement, "I have found that the great majority of alleged assaults of Ms. Heard by Mr. Depp have been proved to the civil standard."
Jenny Afia, a partner at the law firm Schillings who is representing Depp, said, "The judgment is so flawed that it would be ridiculous for Mr. Depp not to appeal this decision," calling the decision "as perverse as it is bewildering."
Depp is also suing Heard for defamation in the U.S. over an opinion article that she wrote for The Washington Post under the headline "I spoke up against sexual violence — and faced our culture's wrath. That has to change." The actor said that publication led to him being dropped from the Pirates of the Caribbean movie franchise.
Heard's lawyer Elaine Charlson Bredehoft said, "Very soon, we will be presenting even more voluminous evidence in the U.S. We are committed to obtaining justice for Amber Heard in the U.S. court and defending Ms. Heard's right to free speech."
Heard said in written testimony that Depp "explicitly threatened to kill [her] many times," and that he subjected her to "punching, slapping, kicking, head-butting and choking" during their relationship.