My Daughter Is Dressing As JoJo Siwa For Halloween, And I Am So Proud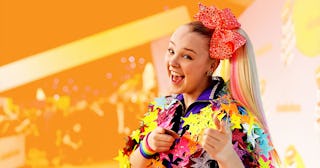 Scary Mommy and Matt Winkelmeyer/Getty
Halloween costume selection begins in my house around July. It is an exciting time to decide who you are going to strut around the neighborhood dressed up as. In my house there is always a mix of superheroes, ghoulish creatures and something ultra-girly. My daughter likes rainbows and unicorns and dresses and bows. This year's selection incorporates all of her favorite things. She will be dressed to impress as JoJo Siwa, and I couldn't be more proud of her choice.
Right now, JoJo's aesthetic appeals to my daughter's five-year-old senses. She is bright and she is loud and she is over the top. It is a little girl's entire dream come true. But JoJo is more than just a free spirit with a giant bow in her hair; she is a trailblazer, a businesswoman, and a prominent face for LBGTQ youth. She is someone who I want my daughter to look up to as an inspiration.
JoJo rose to fame on Dance Moms as one of Abby Lee Miller's stars. She started out as an energetic blonde bombshell who has turned her sleek side pony into a global empire.
JoJ0 Siwa partnered with Nickelodeon at the age of 13 and went from being a face on reality TV to one of the network's biggest stars. Not backing down from a challenge, she has been involved in her business ventures since day one. She had a vision as an entrepreneur and wanted to be part of all of the initial decision-making.
She said in an interview, "Early on, Nickelodeon wanted to have a meeting, where they discussed big business, and they wanted to do it without me. My mom and I said, 'That's not how it works. We've been in this together since day one.' And in that meeting Pam, who is the head of consumer products, said, 'Just so you know, if this t shirt doesn't sell then it's all over. That was why I didn't want you here.' Now, every time I see her I laugh and say, 'How'd that t-shirt sell?'"
We all know how that story goes. JoJo is everywhere. From clothing lines to bedding to toys and of course her infamous giant bows, if you have a little girl who is into bright colors and candy and wild dresses, you likely have something JoJo Siwa in your house right now. I don't even want to think about the amount of money I have invested in hair accessories. There are now 500 employees at Nickelodeon who are dedicated solely to the JoJo brand. They take her seriously, as she is one of their most lucrative stars.
But JoJo Siwa isn't just about being a brand — she is a real person. If you haven't had the chance, do yourself a favor and take a look at JoJo's house. She is living in a fantasy world and she is 100% true to the image that she portrays in the public. It is not a persona; JoJo really does live in a candy-coated dream world. Think Willy Wonka with a unicorn here and there. She is genuine and she is fun and she is a kid. Her positive energy is inspiring.
If you have ever watched her TV specials or seen her in concert, you know that her message is clear. Be positive and be true to yourself. And she is nothing but true to herself. She graced the cover of People Magazine in April 2021 and discussed her journey to coming out as queer and how she has never been more comfortable with herself. "I like queer," she adds. "Technically I would say that I am pansexual because that's how I have always been my whole life is just like, my human is my human."
She explained that she never wanted her coming out to be a big deal, but we all know that is not the case. There has never been a star with a fan base that skews so young to come out as LGBTQ. Her decision was met with criticism and hatred, but sadly, that was to be expected. She was able to look beyond the hate and find the positive
"My thing is, I don't want people to watch my videos or buy my merchandise if they aren't going to support not only me, but the LGBTQ community," she told people.
That is exactly the kind of role model that our children should have. We want our kids to be themselves, no matter who that may be, and we want them to be proud. We also want them to work hard and fight for the rights of others. Parents want to raise good humans; JoJo is a shining example of what a good human is.
Right now, my daughter is too young to understand the true icon that JoJo Siwa is. She likes her style and her energy and her bows; it's all about the bows. But for me, it is so much more. JoJo is what I want my daughter to be. Her self-confidence, her brilliant mind and her kind heart are an inspiration. I am team JoJo all the way.
You can currently catch JoJo making history as part of the first same-sex dancing duo on Dancing With The Stars, Monday nights on ABC.
This article was originally published on