The Jonas Brothers' Faces Are Now On Beer Bottles For Some Reason
by Julie Scagell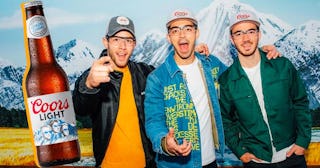 Coors Light and Joe Jonas/Instagram
The Jonas Brothers actually helped make the brew as well
If you're a Jonas Brothers fan and fancy yourself a beer every now and then, you're gonna love this collaboration. The singing trio recently announced they're teaming up with Coors Light to release a limited-edition bottle collection, and their famous mugs will be front and center on the snowy mountains you know and love from Coors Light bottle labels.
The bottles, which feature brothers Nick, Kevin, and Joe Jonas's faces in a Mount Rushmore-inspired scene, are officially a thing. If you're a true fan, you know the love affair the brothers have always had with Coors Light, so it's not too surprising they'd partner up. Joe had custom-made Coors Light bottles at his wedding to Sophie Turner this year, and Kevin made a cameo with Coors Light in the band's "Only Human" video. All three brothers in shades staring at you from the label is just a fun surprise we apparently never knew we needed.
In fact, Joe was so excited, he decided to post a picture of the group as they toured the Coors Light factory in Colorado (they were there on their sold out Happiness Begins tour) and commented that it was the "BEST. DAY. EVER." Turner, you know, his wife, quickly jumped into the comments to ask a very important (and somewhat snarky) question.
"Really? The BEST day EVER?! Interesting….." Turner commented. Whoopsie. Joe, you better bring your wife an apology Coors Light, with or without your face on it.
"We are long-time fans of Coors Light and were really excited to be invited out to the Coors brewery," the brothers said in a press release. "We can't wait for our fans to try the limited-edition six-packs of Coors Light that we helped to brew." They also added that it was "pretty amazing that our faces are on the iconic mountains on the bottle."
"We loved hosting Kevin, Joe, and Nick out at the Coors Brewery," said David Coors, President of AC Golden Brewing. "It's exciting to see how they make Coors Light part of their life moments both big and small."
And now, we'll all be able to make Coors Light and the Jonas Brothers parts of our own life moments both big and small, when we bring them with us to our next barbeque, family get-together, or tailgate. What a time to be alive.
The Jonas Brothers' special-edition Coors Light bottles will be available in six packs starting in mid-November — but only in Boston, Philadelphia, Chicago, Nashville, and Tampa. With those gorgeous faces heating up those cool Colorado mountains, if you don't live in one of these states, you may want to phone and friend and have them pick you up a sixer.