The Jonas Brothers Are Starring in Netflix's First 'Family Roast'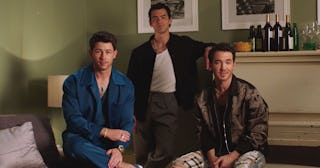 Netflix/Youtube
The star-studded event will send up the famous trio with sketches, games, and songs
It's almost the holiday season, which means Charlie Brown specials, Elf On The Shelf, and, if you're lucky, some tasty charcuterie wreaths. However, if you consider yourself a Jonas Brothers fan, then gather your emotions — the boys are back in town. The specials featuring the brothers Jonas will hit Netflix on November 23, according to an announcement from the streaming giant.
The special will be hosted by comedian Kenan Thompson and will feature guest appearances by Lilly Singh, John Legend, Gabriel "Fluffy" Iglesias, Pete Davidson, Niall Horan, and more. The bros will be honored with a comedy roast filled with sketches, games, songs, and other surprises.
The announcement includes no mention of the merry wives of Jonai, but I would absolutely love to see Sophie Turner serve as bartender (you just know she mixes the best drinks) and watch her reaction when one of the guests orders something super cringe-y, like Sex On The Beach or a Fuzzy Navel. Or if Priyanka Chopra, looking regal and slightly aloof, gave a Mona Lisa half-smile to the camera? One that we could spend hours dissecting over a glass of wine. (Is she happy to be there or is she texting her bestie Meghan Markle things like 'I'd take Sandringham over this mess any day of the week – and then Markle wouldn't answer right away, so Chopra would panic and think she overstepped and she'd frantically type "KIDDING" and then wait for a smiley emoji that would never come).
While the idea of a Jonas Brothers roast sounds so completely bonkers that it makes perfect sense, here's hoping the Jonai will turn on each other. In a purely, lighthearted comedic way, of course.
But maybe not?
We all know the best humor has a bit of an edge to it; a "bite," if you will. As the trio are both brothers and bandmates, there's bound to be plenty of source material. Wouldn't it be great for Joe to turn to Nick and say something like, "this guy right here, and his $34 f*cking toothpaste." And then for Nick's eyes to narrow slightly before he laughs, but the laugh never quite reaches his eyes? My god, that would be great television.
COULD YOU IMAGINE?!
Forget Thanksgiving, it would be like Christmas came early this year.