Jonathan Van Ness Reveals He Got Married To His 'Best Friend' In 2020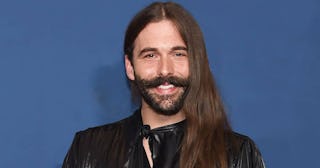 Jamie McCarthy/Getty
The couple both shared the news on Instagram
Jonathan Van Ness revealed in an end-of-year post on Instagram that he and boyfriend Mark Peacock got married in secret sometime this year.
In a lengthy post, Van Ness spent time reflecting on all that happened in 2020, saying it was "a year unlike any other." The beloved Queer Eye star then casually drops in the list, "I got married to my best friend & have a loving partner to continue building my life with," and hold up, when did that amazingness happen?
Alongside the caption, Van Ness shared a series of pictures from his year, including one adorable picture of him and Peacock holding hands and smiling into the camera. He also revealed the pair got a "lovely Pablo dog" from Austin Pets Alive.
In another post, he shared more about he and Peacock's relationship, writing, "Something about Mark felt different and I'm quite sure he felt the same. Here's some of my favorite moments together and here's to making many more. Thanks so much for your support and love for us!!"
He also shared other memories that he felt thankful for in 2020: "Thank you universe for allowing me to be here & thanks to everyone who has supported me. 2020 was a year unlike any other. I got to campaign & get more involved politically. I finished my tour in Australia & NZ for what I didn't know would be my last standup show for who knows how long," he wrote.
He, like many of us, also spent time on Zoom with old friends and met new ones along the way (virtually, of course). "And for all the hardships this year I do think our country is taking steps to heal and as painful as it is I'm hopeful for our future," he added.
He also got to tumble with the "icon of icons" Simone Biles which would be a major highlight of any year, but especially this one. And who can forget his other three amigos on Queer Eye, Karamo, Tan, and Antoni, who he Facetimed "to celebrate our Host Emmy nomination amongst other catch-ups."
Finally, he shared a sweet pic with his mom, writing, "Last but not least the last time I got to see my mom who I'm so so proud of all she's done this year & can't wait to see her again soon."
London-born Peacock also shared the news on Instagram with a gorgeous selfie of the pair, writing in part, "2020 brought on more changes than I've ever been a part of before. I left London and moved across the Atlantic, got dressed up for numerous seriously hilarious zoom quizzes, re-discovered a love for gardening, learn to drive on the left, got married to my soulmate and one true love @jvn."
This is the sort of news we need more of this year. Congrats to the happy couple and cheers to a fabulous 2021.