Josh Duhamel Hopes Future Second Wife Is 'Young Enough To Have Kids'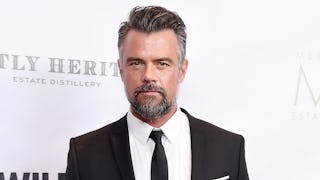 Image via Getty/Gregg DeGuire / Stringer
Josh Duhamel's comments here will make you say 'OOF'
Josh Duhamel and Fergie decided to end their marriage last year. The couple are parents to five-year-old Axl Jack, but Duhamel is making it clear in a recent interview that he's ready for more children.
He just needs a woman who is still "young enough" to have them. Ah, it must be nice to be a man.
While chatting with Dax Shepard on his podcast, Armchair Expert, Duhamel, who is 45, was candid about what he's looking for in a partner.
"I'm not 30 years old anymore," he said. "I'm 45. I want to have more kids in the next few years. So it's more about finding someone young enough to have kids. It's not as if I'm out there trying to just f— anything. That's not who I am. I'm trying to find a girl that I can be with and have a family with."
Look, there's nothing wrong with wanting more children post-divorce. And 45 isn't 65. But there's just something so…quintessentially Divorced Middle-Aged Man about statements like this. It's just a weird thing to say.
Like that's one of your tenets to finding a new life partner? It kind of comes across like: "Gotta get me a young broodmare because Papa wants more juniors!"
And you just know if Fergie, who is 43, said something like this (or any woman over 40, for that matter) people would come out of the woodwork to tell her she's "too old" and it's "irresponsible" and concern-troll her to hell and back. When a handsome, middle-aged guy says it? No one bats an eye.
It's also just not fair that men can literally have biological children FOREVER and women can't. Also? Being "young" isn't a guarantee that someone is capable of reproducing. Plenty of "young" women struggle too. So what then? Sure, maybe he didn't mean it wholeheartedly and he wouldn't ditch someone just because they couldn't "give" him more kids.
But then why say it?
During the interview, he also commented on how he co-parents with Fergie — and regardless of any doofus remarks he might make, it seems like they're really solid when it comes to parenting.
"Fergie and I had a great relationship," he says. "I love that girl and I always will. Unfortunately, we didn't work. But I will always have her back and she is the mother of my baby."
This article was originally published on