Justin Bieber Talks 'Heavy Drug Use' And Being 'Hated' In Emotional Instagram Post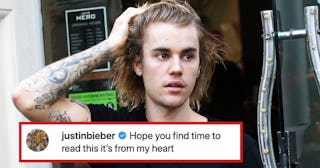 Justin Bieber/Instagram and Neil Mockford/Getty
In an emotional Instagram post, Justin Bieber didn't hold back about how fame at a young age led to some immense struggles
Justin Bieber just got very honest about his struggles on Instagram. He shared an emotional post on Monday about how his early fame deeply impacted his mental health. But he didn't stop there– he also made some big reveals about his own bad choices and how they led him down a very dark path, one he wasn't sure he'd ever find his way off of.
Bieber has always been known for being candid, but in this post, he didn't hold back. He discussed everything from what it was like growing up in an "unstable home" and how pretty much being able to do whatever he wanted, as a kid with all the money and resources one could imagine, sent him into a downward spiral that lasted for many years.
"It's hard to get out of bed in the morning with the right attitude when you are are overwhelmed with your life, your past, your job, responsibilities, emotions, finances, your relationships. When it feels like there's trouble after trouble after trouble," he began the lengthy post he shared on Monday. "Sometimes it can get to the point where you feel like you don't want to live anymore."
It's a loaded statement, but it's clear Bieber really went through the wringer. He went from being loved and adored, to ridiculed after a period of behaving pretty badly in public. He said at times he felt like the "most ridiculed, most hated person" in the world.
The 25-year-old star went on to talk about the immense challenges of growing up in the spotlight and how harsh that glow could feel. He shared how growing up as a kid who didn't yet have "humility," which he says "comes with age," and how listening to all of the outside voices around him impacted how he saw himself. It makes a lot of sense honestly, and while it's often hard for us regular folks to sympathize with celeb-problems, it couldn't have been easy to grow up that way.
At the same time, Bieber says while he was living the dream, he wasn't developing skills he needed for a truly happy, successful life. Because, you know, when you have more money than God, life skills are easy to bypass. "Everyone did everything for me so I never learned the fundamentals of responsibility," he said. While we imagine being a celebrity to be wonderful in that way — not having to lift a finger, having people at your beck and call — undoubtedly, Bieber felt lost and he made some very big and public errors.
But he didn't hold back about those mistakes, though. He said he got into some "heavy drug use" by the time he was just 19 and that he had a habit of being "disrespectful to women." Wow. Talk about owning up to his past.
Fortunately, though it took years of growing into himself with that harsh spotlight in his eyes, it seems Bieber has managed to turn it all around. Judging from this powerful post, it looks like he's on a much smoother path, which is not always the case for those who grow up like he did. It's clear he has matured and is willing to take responsibility for all the choices he's made, though, which is a great way to move forward.
It seems like that's where his focus is now. He ended his post by saying he feels he has entered the "best season" of his life, marked by his new marriage to Hailey Baldwin. Though the pair is already married, they are planning a religious, and no doubt spectacular, ceremony with friends and family later this month.