Justin Bieber Asks Hailey Baldwin If They Can 'Start Trying' For A Baby
by Erica Gerald Mason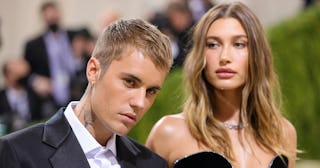 Theo Wargo/Getty Images
The world may soon have a Bieber bebe if Justin Bieber and Hailey Baldwin's convo in his new documentary means anything
Justin Bieber and Hailey Baldwin prove they are Generation Z's #relationship goals in a scene from the newly released doc Justin Bieber: Our World. The flick, which is currently streaming on Amazon Prime, shows the "Peaches" singer talking with his wife Hailey Baldwin, when he shared that he would like to "squish out a nugget" this year.
"My intention for 2021 is to continue to set goals and have fun while doing them. Make sure I put my family first and hopefully we squish out a nugget," Bieber said to his wife as the pair chatted the morning before his New Year's Eve 2020 concert.
"In 2021?" Baldwin asked, to which Bieber said he wanted to "start trying" at the end of 2021.
"We shall see," the model answered.
The couple, who married in 2018, recently walked the red carpet for the 2021 MTV VMAs… and they are honest-to-goodness adorable with each other.
"I want to say thank you guys so much," Bieber told the crowd as he accepted his artist of the year award. "I look over here, and I see my beautiful wife, and I just want to say I love you so much." Baldwin blew her husband a kiss from the crowd as he concluded his speech.
Bieber and Baldwin have been open about (eventually) having kids, but the pair have not publicly made any itty bitty Belieber announcements.
Bieber appeared on Ellen DeGeneres's show in December 2020 and said any decision about starting a family starts with his wife.
"I am going to have as many [kids] as Hailey is wishing to push out," he joked to DeGeneres in December. "I'd love to have myself a little tribe. But, yeah, it's her body and whatever she wants to do. … I think she wants to have a few."
DeGeneres then pressed Bieber about why he and Baldwin haven't already started a family – (don't try this trick at home, folks, it's not really cool to ask people why they DON'T have children) – Bieber had the answer any modern man should Beliebe…pardon… BELIEVE 100%
"She has a few things she wants to accomplish as a woman. And I think she's not ready yet, and that's OK."