Justin Theroux Took His Dog As His Date To The 'Lady And The Tramp' Premiere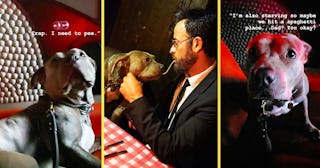 Justin Theroux/Instagram and Gonzalo Marroquin/Getty
Justin Theroux may have just discovered the world's most perfect movie date
As you probably know, Justin Theroux is one of the stars of Disney's upcoming live action remake of Lady and the Tramp (he voices Tramp!). The movie is set to drop on Disney+ next month, but before it does, it got a world premiere like any movie should. And when Theroux needed a date to that premiere, he knew exactly who he should take: His own beloved rescue dog, Kuma.
But Theroux didn't just snuggle up with Kuma to watch his latest flick. Nope, instead, he spent the whole movie carefully filming and documenting Kuma's reaction to Lady and the Tramp, and then shared her honest review on Instagram for all of us to see. The result is absolutely hilarious and so sweet.
Things got off to a slightly ruff start when Kuma had trouble reading the opening credits.
But things started pretty quickly looking up.
In fact, Kuma was pretty taken by the movie's love story almost immediately.
She also got ideas in her head about spaghetti pretty early on — that's important later.
Theroux documented all of Kuma's reactions throughout the whole film, including when she got a little thirsty.
And when that thing happened to her that happens to all of us who hit the soft drinks a little too hard at the movies.
As you can see, she didn't pause her review, even when Theroux took her out for a little mid-movie potty break.
At the end of the movie, we finally got Kuma's full review, and it sounds like she was pretty pleased.
She also made note of her dad's reaction, which might have been just a little bit emotional.
So out to dinner they went, where Kuma and Theroux recreated one of the movie's most iconic scenes.
Yeah, we think it's safe to say this movie gets two paws up from Kuma and Theroux. We can't wait for Disney+ to launch so we can check it out, too.
Theroux adopted Kuma in 2017, after she was rescued from Texas in the aftermath of Hurricane Harvey. He's always been an outspoken lover of bully breed dogs — and all rescues. It makes him a perfect fit for the leading role in Lady and the Tramp, a movie that starred several rescue dogs who found their forever homes through filming the Disney classic.
Clearly, Kuma and Theroux were meant to be together, and their movie date is just the latest happy story for these two. Now BRB while I take dogs as my dates to every movie I ever see from now on.