Justin Timberlake Shares Gushy Birthday Tribute To Jessica Biel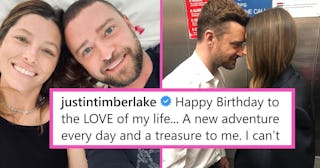 Justin Timberlake/Instagram
Justin Timberlake celebrates wife Jessica Biel's birthday with heart-felt Instagram post and low-key party
Jessica Biel just celebrated another orbit around the sun and to mark the occasion, Justin Timberlake went all out on Instagram, going full "Instagram husband" for his wife's birthday.
"Happy Birthday to the LOVE of my life," Timberlake began his sentimental post. "A new adventure every day and a treasure to me. I can't wait to share many more of these with you. Thanks for putting up with me when I smell funky after a round of golf or, when I smell funky in general. You are the mostest of the mostest, my love! I adore you."
He accompanied the text with a collection of lovely photos of the couple over the years.
He also surprised his wife with a low-key backyard birthday that Biel called "my kinda party."
"Celebrating my birthday in style… and by that I mean, in pajamas," Biel wrote on Instagram. "I made Justin PROMISE not to sing Happy Birthday to me, so he improvised. Sorry you can't hear it, but I'm still laughing. Thank you, you wonderful human, for really listening to me, and for throwing my kinda party."
We're happy to see the couple so loved up, especially considering their recent round of media coverage. Just yesterday, Biel was spotted walking around without her wedding ring, which is a big no-no in the tabloid world. Plus, back in November 2019 — right around Thanksgiving — Timberlake was spotted getting ~fun and flirty~ at a bar in New Orleans with his co-star Alisha Wainwright. He later denied that he had cheated on his wife, but did admit to drinking too much and apologized for what he called "a strong lapse in judgement."
Biel and Timberlake got married in 2012 and share one son, Silas, and listen — we've never been at the center of a celebrity "flirting" scandal — so if these extremely saccharine birthday posts are an indication that all is well in the Biel-Timberlake household, then we'll take their word for it.